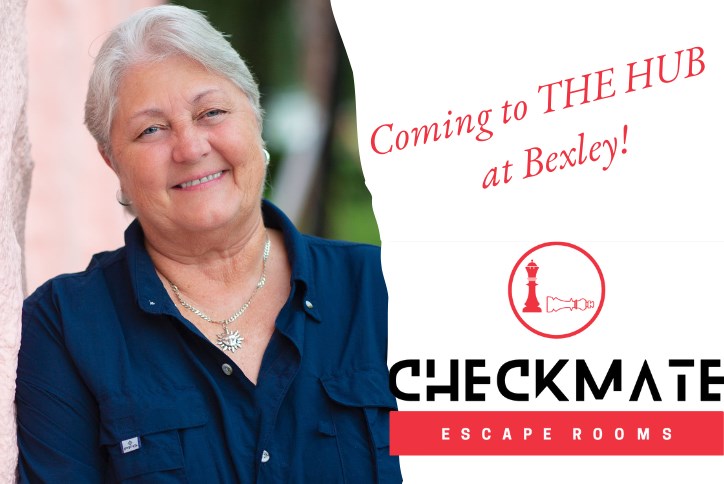 Meet Checkmate Escape Rooms
Published: October 2022
Get ready to race against the clock in this adventure of wits and teamwork solving puzzles and clues to successfully escape! Introducing the newest tenant joining The Hub at Bexley – Checkmate Escape Rooms. Read on to learn more about how owner Suzanne Spigner plans to share her passion for bringing people together. 
Bringing New Adventures to Bexley 
The Checkmate Escape Room at The Hub will feature four exciting escape rooms, with one specifically for kids. It will also include a party room, providing opportunities for your special events, team building, and whatever other occasion you wish to celebrate. What better way to create new memories than by solving puzzles and tracking down clues to solve a mystery? 
"We are so excited to be a part of The Hub at Bexley and to bring people together to play fun games that engage them to work together as a team," Suzanne shared. "It's a great way to connect with your loved ones and step away from the buzz of electronics."  
Checkmate Escape Rooms will occupy 3,900 square feet of space at The Hub at Bexley and tentatively scheduled to open by the end of 2022. From murder mystery to kid-friendly options, there is a lot for everyone in the group to enjoy.  
Checkmate Escape Room's Vision 
Checkmate Escape Rooms is a family owned and operated adventure. Suzanne, with her niece and nephew Lindsey and Jermain Humphrey created Checkmate Escape Rooms to bring family and friends together with hands-on activities that support connectivity and team engagement. After experiencing the fun of an escape room with her loved ones, Suzanne knew she wanted to bring this sense of togetherness to others. 
Grand opening details will be announced soon. Stay tuned for additional updates about Checkmate Escape Rooms, as well as additional tenants coming soon to The Hub at Bexley!