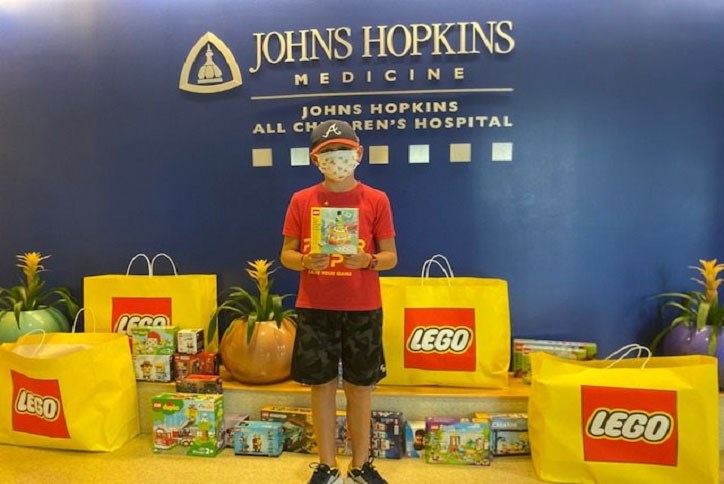 10-Year-Old Resident Hosts LEGO® Fundraiser for Hospitalized Children
Published: September 2022
Julien Opheim is one of the most selfless and motivated 10-year-old boys you'll ever meet. This summer, Julien summoned fellow Bexley residents, as well as those in surrounding areas, to help support a very special cause. The Mission: to gather LEGO® packs to be donated to hospitalized children in Tampa Bay. 
His passion for giving back started in 2020 when he was only 8 years old, living with his family in Georgia. Julien wanted to help bring smiles and laughter to children who needed it most. His first fundraiser involved purchasing LEGO sets for kids to play with at Children's Healthcare of Atlanta. He was thrilled to collect $4,000 for the cause, greatly surpassing his initial goal of $1,000. Following his family's move to Florida, Julien wanted to continue bringing joy to those in need and had hopes of organizing another successful fundraiser in his new community. 
"Some kids won't be able to get out of the hospital and that means they won't be able to play with LEGOs and that's really sad," Julien said. "It's just nice knowing that they're happy and having fun." 
Julien's latest fundraising efforts consisted of a LEGO collection site at The Bexley Club, as well as a bake sale to raise additional funds to purchase more LEGO sets for boys and girls of all ages. Participants unable to drop-off donations in person, but still wanting to give back, were also able to purchase items from a special Amazon Wish List. With the monetary donations Julien gathered, Julien purchased additional packs and then delivered the bundle of toys to Johns Hopkins All Children's Hospital. In total, he raised nearly $3,000, delivering 272 LEGO sets for hospitalized children to play with. Julien also has a growing fundraising page that has since raised an additional $550 to buy more toys for Johns Hopkins All Children's Hospital.  
According to his mom, Dominique, Julien has always shown an interest in giving back to his community and spreading love. Here at Bexley, we're happy to have taken part in this event to help bring joy to children at Johns Hopkins All Children's Hospital. With his incredible passion and philanthropic heart, we are excited to see what other charitable endeavors Julien pursues in the future!