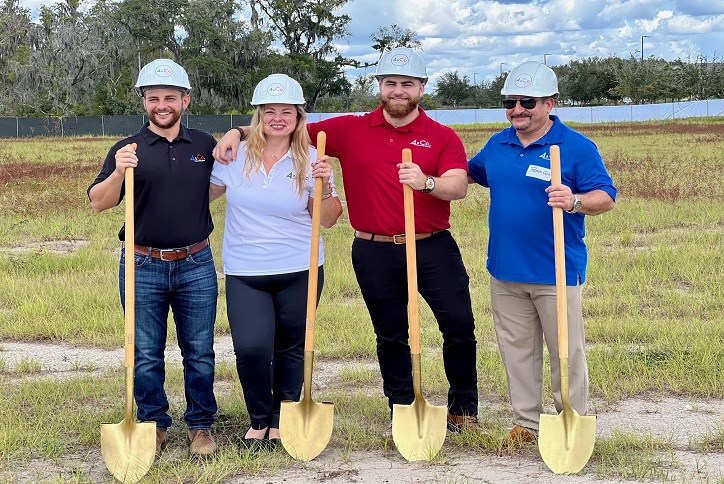 Meet 4 & Co., the Newest Addition to Bexley
Published: October 2021
Bexley and our new retail area – The Hub – were designed to be all about helping people live their best lives. A better place to eat, to shop, to gather, and now... to WORK. Join us in welcoming 4 & Co. to the Bexley community.  
4 & Co. recently broke ground on its 38,000 square feet of office and coworking space. But this isn't your average room with a conference table – it is a supercharged space with everyday amenities and even luxury conveniences. 4 & Co.'s offerings are especially attractive because they have membership options without long-term obligations, allowing small businesses, freelancers, employees, and employers to adjust their spaces based on need. 
Membership: A Serious Dream Workspace, Complete with Amenities
Grow your business and your free time with this incredible facility including a gym, yoga studio, sauna, treatment rooms for acupuncture or massages, and a hairdresser. Members will also have access to meeting and conference rooms of different sizes, high-speed WIFI, notary services, video conferencing equipment, food trucks, green spaces and a game room. The membership options 4 & Co. will include:  
Virtual offices or a mailing address for businesses 

1 to 5 day passes for open desk space usage  

Private offices of various sizes 

Meeting and conference rooms  

Half-day and full-day passes 
Resources: Workshops, Networking & More 
4 & Co. owners are also on-site with a small workshop to guide members on streamlining their efforts, assisting with items such as QuickBooks, creating social media posts, and developing new business leads. 4 & Co. will also create chances for networking, including events and learning opportunities throughout the year. Lastly, there is a plan to also begin a Saturday morning market to help connect the local community with vendors and businesses.  
The Ambiance: It's a Vibe  
In this relaxed work atmosphere, the homey touches and friendly feel provide members with a comfortable setting for achieving their business goals. 4 & Co.'s offices and coworking spaces are slated to open Summer 2022. Once completed, we hope this, along with the larger The Hub at Bexley development, serve as a center where people can come together to work and meet with friends and family. 
For more information or to secure a membership, visit https://fournco.com/.