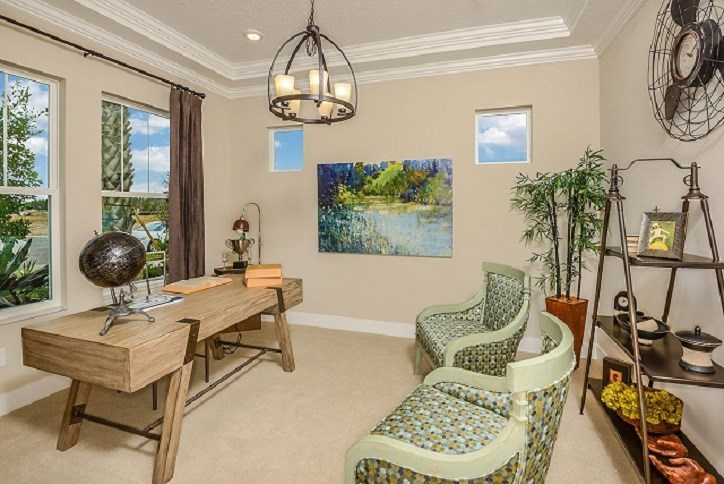 5 Tips for Running a Home-based Business
Published April 2017
Working from home offers an exciting opportunity to be your own boss in the comfort of your new nest. If you dream of a toll-free commute that only requires a trip down the hall (pajamas optional), then here are a few pointers to get you set up.
1. Claim your space.
It's important that you have a space of your own to be inspired and organized, and moving into a new home is the perfect opportunity to make your office truly your own. Design with your work style in mind. Are you a creative big picture dreamer? Let in the natural light, and hang sheer window treatments or mirrors. Want to keep work-life balance top of mind? Hang travel photos or your kids' finger paintings on the walls for inspired reminders of why you work from home in the first place. Are you a Grade A planner or organizer? Go for built-in shelves and symmetry in your space life matching lamps and geometric prints.
2. Make it functional.
So you've zeroed in on your space and decorated it to your taste. Now you've got to make sure the space, er, works. You need to be able to quickly grab a pen and paper, print and scan, answer your phone, and have enough space to maneuver with ease. Be selective about your desk and chair. You'll spend the better part of your day right there, so it needs to work for you. Consider ergonomic furnishings like a standing desk or core ball chair. Also think about a shared space for clients or sub-contractors.
3. Protect the space.
Everyone has a different set of distractions. It's important that this work space is committed to your productivity. That means setting boundaries. If you are new to working at home then be tough at first. Relegate personal phone calls and internet browsing to the family room. Creating the right habits in your home office is crucial to maintaining focus. Leave the tweeting, shoe shopping, and sports news on the living room couch.
4. Schedule your day.
Rule #1, manage your time, don't let it manage you. Start your day by organizing it into time blocks (and not around Dr. Oz). If you want to work out in the middle of the day, hit the trails, or grab a coffee with friends at the Community Center, then by all means do. It's part of the perks of working for yourself. But do block this time out on your calendar like an appointment. This type of rigid planning works both ways and will also help prevent work from seeping into your personal time with family and friends or late nights impeding on solid sleep. Do your best to stick to your schedule and discourage distractions.
5. Share your schedule.
Maintaining a schedule is hard enough without interruptions, so share your schedule with family, friends and colleagues to avoid being interrupted. This forces you and those around you to respect your time. It creates a system of accountability for everyone. If your schedule is interrupted, time has to be made up and taken from somewhere else. Rule of thumb for home business owners: boundaries help create balance.
Oh, and have fun. You've earned it.