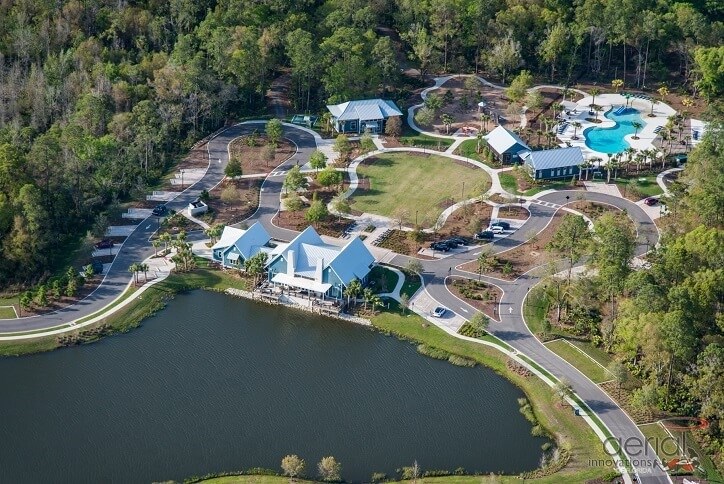 Top Reasons to Live in a Master-Planned Community
Published: June 2022
Did you know that where you live can have a huge impact on your overall quality of life? Outside of work, your home is where you spend most of your time, and you want to make sure it's a place where you feel fulfilled, comfortable, and happy.
There can be so much that goes into finding the perfect home for you and your family. If you are looking for a master-planned community with new construction in Land O' Lakes, consider Bexley by Newland. There are many perks of choosing a master-planned community; keep reading to learn more.
What Is a Master-Planned Community?
When you are looking for a new house to call your home, consider a master-planned community and all they have to offer you. A master-planned community is a self-contained neighborhood made up of beautiful new homes and other bonuses. They typically offer many different resort-style amenities and community events.
Master-planned communities are designed to offer you practically everything you need, either within the neighborhood itself or within a short distance. If you are considering a new construction home in Land O' Lakes, Bexley is an example of a master-planned community with many amenities that are available for its residents to enjoy.
Some typical amenities included in a master-planned community are trails, parks, a café, pool, and a fitness center. Bexley offers all of these, plus a new retail and commercial destination, The Hub at Bexley, which will be opening soon near the entrance of the community.
The idea behind offering so many great benefits is that you should feel most comfortable in your home and neighborhood. Master-planned communities want to have everything you need so that you can enjoy your life to the fullest.
What Are the Perks of a Master-Planned Community?
You now know exactly what a master-planned community is and some of what they offer. Now it's time to get into the many perks of living in a master-planned community.
When considering a new home, you might be interested in new construction. With master-planned communities, you can choose from a selection of new homes. This allows you to have your home exactly how you want it.
One of the most exciting benefits for master-planned community homeowners is the built-in social life. Planning quality time with friends and family is easier when there are recreational opportunities nearby. Whether it's coffee, yoga, or a day by the pool, there are always activities available for residents.
Why Bexley by Newland?
In a community like Bexley, there is a wide-ranging diversity of people at different stages of life. Within the community, you will find anyone from young working professionals to retired residents, and everything in between. The welcoming, vibrant atmosphere makes the community truly a unique place to call home.
Another benefit of living in Bexley is the large list of amenities you have available to you. There's a clubhouse, a fitness center, pool, and game room. There are seven different parks, each with its own theme, and miles of trails. After enjoying the many parks, you can buy a refreshing drink or a delicious meal from the Twisted Sprocket Cafe, located in the community.
A lot can go into your decision-making process for buying a home. You want to make sure it's close to education options, hospitals, and your job. Bexley by Newland is conveniently located close to everything you could need in Pasco County, including A-rated schools, access to downtown Tampa, and key roadways for traveling throughout Tampa Bay. This easy access opens up opportunities for you to explore the area.
A Great Decision
There are so many benefits to choosing a master-planned community. In this article, you have scratched the surface of the possibilities awaiting you. In Bexley, you'll find you can meet new people, relax at one of many amazing amenities, and feel thrilled with your new home. 
Choosing where you live is a big decision. So, if you are looking for the next step in moving to an amazing master-planned community, contact us today to schedule an appointment to meet with one of our Community Specialists.