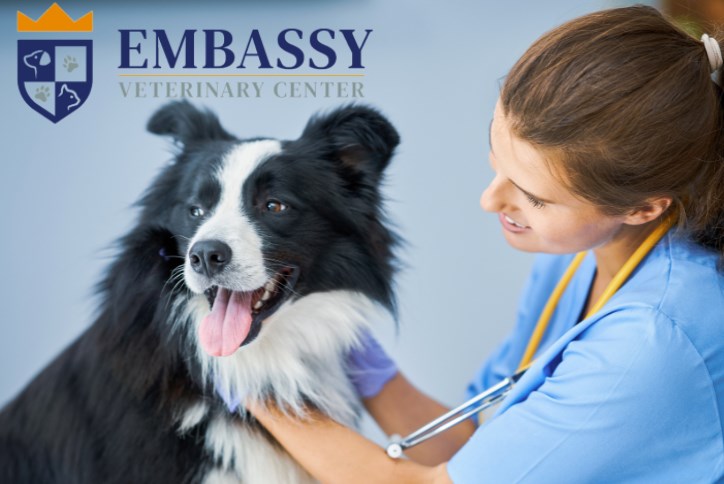 Embassy Veterinary Center & Pet Retreat
Published: August 2022
Are you looking for a new vet or groomer for your pet? Get ready to treat them like royalty! We are excited to announce Embassy Veterinary Center & Pet Retreat. Read on to learn more about how practically all your pet's needs can be cared for just a short drive from home.
About Embassy Veterinary Center & Pet Retreat

Mitch Rosenzweig, CEO of Embassy Veterinary Center & Pet Retreat, has a passion for treating animals. Combining a high-level of veterinary care with a full-service pet care facility, Embassy Veterinary Centers can help you find peace of mind when it comes to your pet's wellness. The team at Embassy Veterinary Center & Pet Retreat is excited for local pet owners to have virtually every service available to their pets, conveniently nestled in Land O' Lakes.
Hear from Ownership

"We pride ourselves in serving the community with leading veterinary care," said Dr. Mitch Rosenzweig, CEO and Veterinary Surgeon at Embassy Veterinary Centers. "Having a pet can bring so much joy, and realizing they are an extended member of the family is even more reason to make sure we provide all essential care pet needs."

All the Benefits & Perks
The Embassy Veterinary Center & Pet Retreat will be a state-of-the-art facility, occupying 16,000 square feet and featuring veterinary staff onsite 24/7. They will feature top-of-the-line surgical suites and an open concept floor plan to allow ample space for pets to receive various treatments with a staff of highly trained doctors. The facility will also include three outdoor turf doggie daycare yards, a dog pool, 24-hour doggie daycare cameras, private pet boarding suites, a members-only dog park, and a pet washing station. 

Membership Details
Interested in becoming a member? The Embassy Veterinary Loyalty Royalty Program will give access to the members-only dog park and self-washing dog station, which will be located inside the lobby. This area requires pets to be up to date on vaccines and appropriate preventative care so pet owners are ensured that the pets using the program are healthy.  
The Embassy Veterinary Center & Pet Retreat is currently scheduling veterinary care, grooming, boarding, and doggie daycare appointments that cater to every pet parent's needs. Bringing essential services to pet owners in the area.