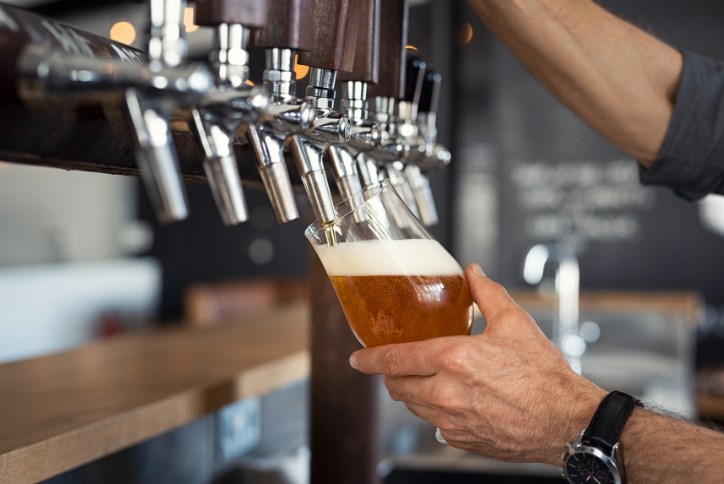 Thirsty Buffalo – Your Bexley Neighborhood Brewery
What do you get when you combine a tap-load of tasty brews, a premium location in The Hub at Bexley, a handcrafted space, and a catchy frontier inspired name?
Thirsty Buffalo Brewing Company!
This new neighborhood spot plans to open its doors to the public later this spring and the team can't wait to start serving the community.
We had the opportunity to step behind the curtain and speak to co-owners Erin Bishop and Jack Lucas as well as the master brewer himself, Justin Schau. From must-try flavors and fun facts to community involvement and future plans, learn everything you can about Thirsty Buffalo before you visit.
Q: How did the vision for Thirsty Buffalo come to be and can you tell us more about the name?
Erin: We have been in the brewing business for over a decade now. A few years ago, my husband and I started a consulting company that helped other breweries and small bars and we called it Thirsty Buffalo.
A couple of years later, our longtime friend, Jack Lucas, was ready to do something new and suddenly the stars aligned! The name 'Thirsty Buffalo Brewing Company' just stuck.
Jack: When we started envisioning 'Buffalo' as the frontier, it really felt like we were on to something. From woodworking and decorative trims to handcrafted shelving and an outdoorsy-themed décor, we've been able to put our personal touch on every last detail.
Q: What would you say makes The Hub at Bexley the right place for Thirsty Buffalo?
Erin: When we saw the design of the area and what it was going to become, we really couldn't say no. It's a beautiful space with plenty of food and entertainment options. We got really fortunate.
Justin: It just seemed like a really cool fit! The beautiful courtyard is going to be a communal space for people to get food and then come grab a beer from us. And beer here has really exploded – every little town in Florida has a brewery. That being said, I don't think there's "competition" per se – more brewers only encourage more options and variety.
FUN FACT: The Hub's space is wet zoned so visitors can take their beer to-go as they walk around and shop or relax.
Q: Do you have any roll out plans for your mid-April open?
Erin: The plan is to open with four beers on tap and then add weekly from there. We plan to keep 16-18 taps in rotation. We'll keep some on tap all the time depending on our customers and we will cater to what they enjoy. And then we'll do some treatments on certain beers --some different and fun things!
Justin: I want to be able to interact with our customers and ask if there's a beer they want or something we haven't done yet. I'm going to brew what the community wants.
Jack: Our brewing system is designed to be more retail rather than distribution. We'll welcome anyone from the Bay area, but our primary goal is taking care of our locals.
Q: What are your goals for Thirsty Buffalo's future?
Jack: It's important to us to be a part of the Bexley community. We're hoping to meet everyone's expectations, make a good connection, and have a great place for everyone to hang out.
Erin: Our focus is to be that community brewery and really support the Land O' Lakes and Pasco County area. We love where we live! In the next year, I hope we can just be the spot where people feel safe and comfortable. We're really excited for the future."
Picking the Brain of a Master Brewer:  
We got crafty and sat down with Justin Schau to get a behind-the-scenes look into the brewing world.
Q: What's something about being a Brew Master that no one else would know?
Justin: It's very scientific. There's a lot of variables that go into making a good batch of beer and a consistent beer – it's very much a science.
Q: Tell us more about your personal approach to brewing?
Justin: I like to brew drinkable beers, meaning people can have 3-4 and still live life. I want to provide variety, something for everyone!
Q: Are there any recipes or flavors that you are really excited about?
Justin: YES! One style I've had some success with that caught people off guard is a coffee-flavored blonde ale. The question is always, "Why is it still blonde?" I figured out a way to concentrate a cold press and maintain my clear pale color with a nice hoppy taste and flavor plus a little jolt of caffeine.
FUN FACT: Thirsty Buffalo is an innovative brewery that likes to keep things fresh and exciting! They plan to shake things up, quite literally, by adding specialty brews such as milkshake beers to their menu. Expect unique flavors like pink guava, passionfruit, and blood orange!
Keep track of their progress by following on Instagram @thirstybuffalobrew and plan your drink itinerary by visiting their website and perusing their newest flavors, https://www.thirstybuffalobrew.com/.