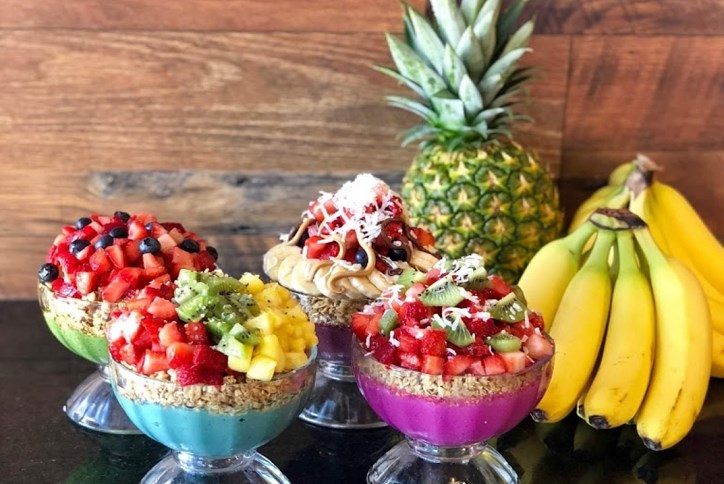 Grain & Berry Brings Delicious and Healthy Choices to Bexley
Published: February 2023
Updated June 2023: Now Open!
Superfood Café Coming to The Hub at Bexley 
If the term "superfood café" is new to you and you're interested in learning more, you are in luck. Grain & Berry is coming to The Hub at Bexley and is bringing fresh ingredients and tasty meal options with it! 
Grain & Berry offers all organic acai, pitaya and spirulina smoothie bowls with plant-based ingredients loaded with antioxidants, vitamins and minerals. There are no hidden artificial sugars or additives, so you can indulge guilt-free in their tasty fruit smoothies, bowls, flatbreads, and healthy shots and juices. 
Get to Know Grain & Berry 
Scott Upright and his wife opened their first location in Carrollwood in 2019 and then a second Grain & Berry in New Tampa in 2020. Now they are eagerly awaiting the grand opening of their third location at The Hub at Bexley this year!  
Grain & Berry's mission is to create healthy communities by offering farm-fresh delicious food in a warm and friendly setting. According to Scott, "plant-based options have exploded onto the scene in recent years" and that is what Grain & Berry specializes in. The couple has also made sure their restaurant environment is one of convenience and quality. Whether you are ordering your acai bowl from their mobile app or gathering as a group to enjoy a meal together, you'll find excellent service and the fresh ingredients at this new, local spot.  
Creating a Healthy Bexley Community  
Scott and his wife look forward to being involved in the Bexley community, planning to support the surrounding schools and take part in neighborhood events. "We want to foster a healthy community close to home and provide a place for Bexley residents to come and relax while fueling their bodies with healthy and delicious food options," said Scott. According to the owner, a healthy community is a happy one – and we couldn't agree more!  
Stay tuned for additional updates, and news about other tenants coming soon to The Hub at Bexley!