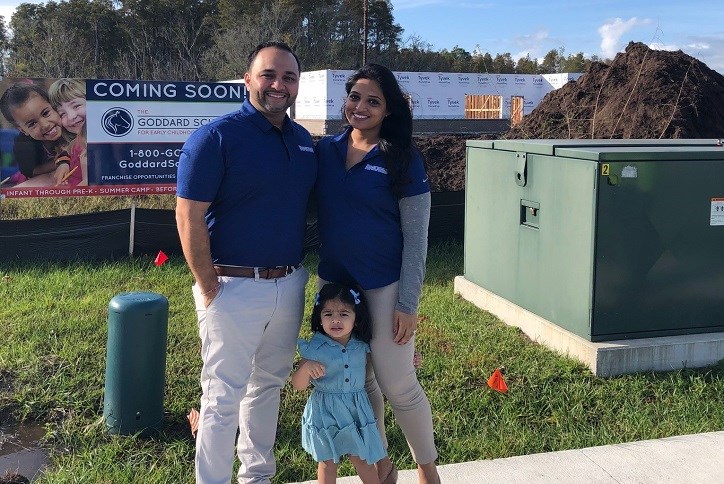 The Goddard School Difference: Learning for fun, learning for life
Published: March 2022
Children learn best through experience – that's the philosophy of The Goddard School. The Goddard School uses current, academically endorsed methods to ensure that children have fun while learning the skills they need for long-term success in school and in life. Highly educated and innovative teachers create individualized opportunities for exposure to new ideas and materials designed specifically for your child to embrace authentic learning in its most natural way—through play and exploration. We sat down with, Kunal Shah, the owner of the Bexley Goddard School, to chat about the exciting new chapter ahead.
Can you tell us more about your school and what it will offer parents?
At The Goddard School in Land O' Lakes, we provide an education for infants of 6 weeks old and until pre-kindergarten. The school will include 2 playgrounds with over 10,000 square feet of artificial turf space for our children. We consider outdoor time as an extension of our classrooms. Our curriculum includes our enrichment programs, such as Chess, Yoga, and Spanish. At The Goddard School, you will find a collaborative school environment, which is vital to the success of our teachers and students. As the on-site owner, and through our directors and teachers, we will be committed to providing the highest quality preschool experience for the children in the Bexley Community.
Where did you get the idea for your Goddard School?
We reached out to our family who have established Early Childhood Schools in Virginia and their family is having wonderful experience working with parents and their young children. We share the same passion for childhood enrichment and value the importance of their education.
What is your business philosophy? What is your school mission?
We believe the early stages of life are the most important to a child's development. We will provide a safe, secure, nurturing environment, led by teachers devoted to personalizing a fun learning experience within our curriculum. Our goal is to provide the highest quality education for our young children in the Bexley Community.
Why did you choose Bexley? How does your school expect to give back to the Bexley community?
We know how challenging it may be for families to find a convenient location with a great foundation in education for their children. The Bexley community is in an ideal location, which has been growing exponentially in the past several years. The community is continuing to attract businesses that will offer families the convenience of all industries, such as a pet-spa, hospital, hotel, shops, restaurants, and much more! We're very excited to find a safe place in Bexley to build our Goddard School. We have built a relationship with several families that are excited to have a top-tier school that will only enhance their education before they move to the A-rated Elementary School in Bexley.
"We are excited for you to join The Goddard School Family! We cannot wait to meet all of you and to get started!"
You can learn more about The Goddard School here.