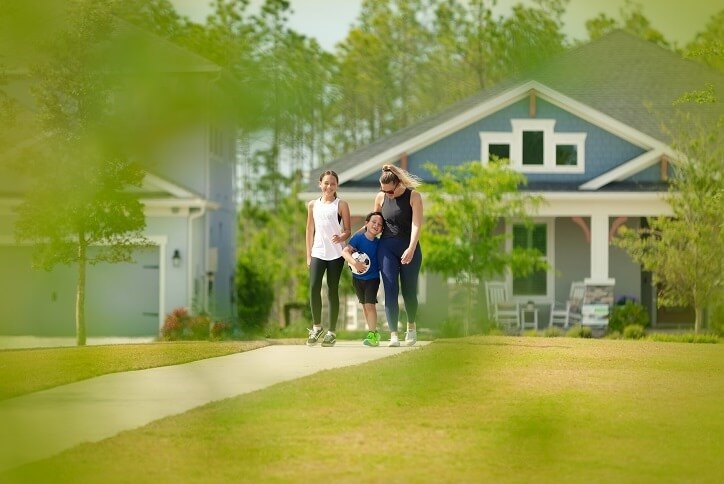 Where are Our Residents From?
Published: January 2022
People decide to move to Bexley for many different reasons – and from many different areas. With beautiful weather, top-rated beaches, great schools, golf, sports teams, theme parks, easy access to healthcare, no state income tax, an award-winning international airport, and much more, it's no wonder why people are moving to Tampa Bay in droves. 
So where have Bexley's residents been moving from? Check out the top trends we have been seeing over the past couple of years:
The Immediate Area: When you already love where you live, why relocate? Those from around the Bexley community, including Land O' Lakes, Wesley Chapel, Odessa, and Lutz, know this is an amazing area to call home. For the past few years, the majority of our residents have chosen to move here from places located just a short car ride away.  
"Location is key for me since I commute downtown for work.  Being so close to the Veteran Expressway was a huge plus for me moving to Bexley, since it allows me to spend more time with my family."   -Raquel K.
Tampa, St. Petersburg, and Clearwater: We've also seen a large number of residents move into Bexley from just beyond the immediate area, including Tampa, St. Petersburg, and Clearwater. With the recent growth, new commercial areas, and a-rated schools, Pasco County is close enough to the big city to still feel connected, but far enough to feel a greater sense of calm. 
"After deciding to start a family, we realized we needed a place for our children to ride bikes with their friends and play outside.  It's also nice to know we have great schools right outside our doors."    -Jennifer P.
Other Parts of Florida: Some people are looking for a change of scenery without moving out of the state. We've seen several residents move here from elsewhere in Florida, and we're thrilled when they decide to call Bexley home.  
"We love living in Florida, but wanted a slower pace than Miami offered, especially when it comes to raising our family.  We love that we're so close to sporting events, the beach, trails...it's just perfect!"     -Chip W.
The Midwest: Over the past few years, we have seen an increase in the number of families moving to Bexley from the Midwest. Whether it's the warmer weather, better tax rates, or employment opportunities that are bringing them here, we welcome those residents to our tropical, welcoming community with open arms! 
"It's so nice waking up knowing I don;t have to shovel snow before leaving work, then come home and shovel my walkway and do it all over again the next day!"    -Sara C.
The Northeast: Similar to those moving from the Midwest, residents coming from the Northeast have also increased. With a relatively low cost of living, affordable housing options, and lower taxes, Florida has become a popular destination for Northeasterners looking to live somewhere a little bit less snowy. 
"Being outdoors year-round is great!"   -Bryan Z.
The West: With representation from all other areas of the country, we can't forget out residents from out West! While only a few families now, we hope to continue welcoming more from the Western portion of the U.S. to Bexley. 
"Our kids bought a home in Bexley and we wanted to be closer to the grand kids.  Once we toured Del Webb, it was a no brainer."   -Rosa F.
Movement to the Tampa Bay area doesn't seem to be slowing any time soon. And with too many perks to mention, people can live their best lives at Bexley. While the hometowns of where residents have been moving from may have changed around over the past three years, one thing remains constant – our residents are the best!