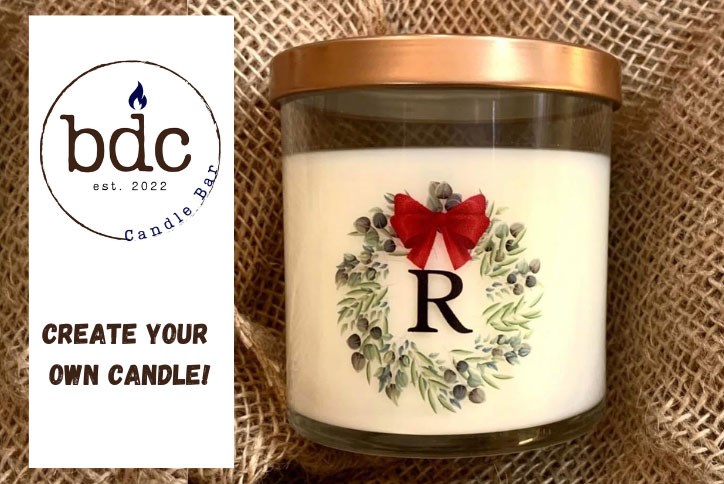 BDC Candle Bar is Bringing Amazing Scents to The Hub at Bexley
Published: December 2022
Another business is opening its doors in The Hub at Bexley, and it's one you'll have to smell to fully experience. At BDC Candle Bar, you can pick out a beautiful handmade soy candle or create your own special scent. Then, get ready to experience the amazing aromas that will fill your home!  
Continue reading to learn more about this unique candle shop, just a short drive from home.   
BDC Candle Bar & The Hub – It Was Meant to Be 
Bill Owen, the owner of BDC Candle Bar, and his wife were planning to add a candle-making experience to their existing business when the pandemic hit, altering their direction. They then began making candles in their kitchen to sell online and to their surprise, they saw a great demand.  
When Mother's Day came, and the orders kept flowing in, it struck the couple that this could be a business all by itself. Bill and his wife began looking for rental spaces with plenty of room to produce candles and offer a personalized candle-making experience for groups of all sizes. Bill made a call and secured the very last space in The Hub. "It was meant to be!" Bill said.  
Company Mission – The Memory-Making Business  
BDC Candle Bar wants to give the community of Bexley a unique space to come together and make memories. They hope to extend the candle-making outing by having customers enjoy other shops in The Hub while their candles dry. With this in mind, BDC Candle Bar has been creating relationships and partnerships with other businesses in The Hub, identifying opportunities to develop a full experience for visitors as they eagerly await picking up their finished candles.  
The space will double as a fun event venue with private areas for bridal or baby showers, businesses functions, and other parties where all participants can create a signature candle. Bexley residents will also have access to a special discount card, perfect for purchasing a scent for their home, or for a friend! 
It's true, scent can trigger powerful memories – from grandma's famous chocolate chip cookies to the smell of your mother's perfume. At BDC Candle Bar, you'll have the opportunity to craft a signature aroma with the ones you love and make a memory that will last a lifetime.  
Stay tuned for additional updates, and news about other tenants coming soon to The Hub at Bexley!