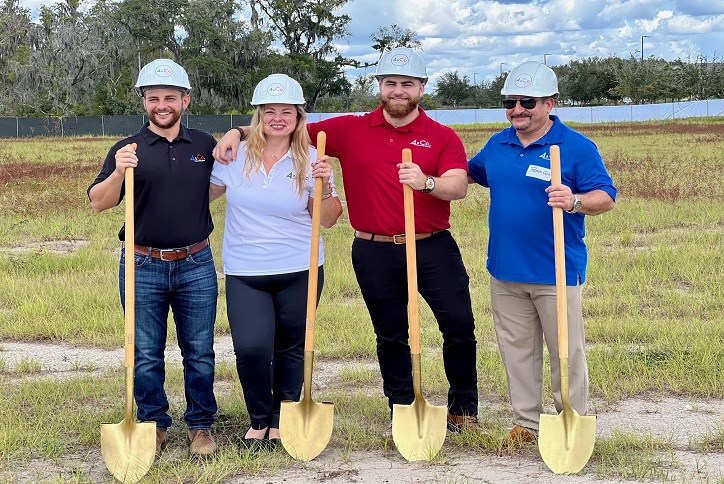 4 & Co: Take Back Your Day!
Published: April 2022
We sit down with Robin Goris, the family business owner and the Director of Operations for 4 & Co, to get the inside scoop on their innovated business.
Tell us about your business and what it will offer customers.
4 & Co Coworking Spaces is a flexible offices/coworking space and so much more! The concept can be explained as a hotel style of business for offices.
The services 4 & Co offers ranges from:
Private offices ranging in size from 1 person - 32 people
Virtual offices (mailing address for other businesses) 
1-5 day passes per week for open desk space usage
Creative Memberships (photo studio/podcast hours + coworking space)
Wellness Memberships
Meeting/conference rooms for 1 hour - full day
Day passes
Amenities:
Gym
yoga
Locker rooms/Saunas
Hair salon/Barber
Treatment rooms (including massage, esthetician)
Nap room
Photo Studio
Podcast studio
Mother's room
Meeting rooms of varying sizes
Huddle rooms
Latest technology including interactive whiteboard, immersive touch screens
High speed internet
Printer/Scanner/Copier
Mailing/Business address
Café/Kitchen
Lounge/chill area
Free coffee/tea
Notary services
We operate on a month-to-month basis for members (no contract nor commitment).
Where did you get the idea for your business?
4 & Co Coworking Spaces began in 2018 with a 4,000 sq ft office building in Clearwater, after a family meeting, our son, Pierre, brought the idea of coworking to light. It was a light bulb moment as my husband and I have run a travel agency for over 30 years and led groups all over the world. We looked at coworking as the hospitality industry in the workplace. After a building retrofit, we were full for members, had a waiting list and became profitable – all within 9 months. We knew we were on to a need and the requests kept coming.
 What is your business mission and philosophy?

4 & Co's niche is our private concierge level of service offered to our members. We are trained and in tune with the needs of small businesses. As small business owners ourselves, we have been in the tenant AND landlord positions, we understand the needs of both. During our daily operations, we are on-site administering to our members' needs, mentoring members, assisting in helping our members to smoothly run their businesses. We have the desire to serve and assist others while offering a concierge level of business services. We have a small business workshop to assist our members with needs such as using QuickBooks, creating social media posts, developing new business leads. Our mission is to assist members Take Back Your Day! The work life balance is off kilter in our country – we work too many hours and are shouldering lots of responsibility along with guilt of not doing enough – either for yourself, family or work. At 4 & Co, we are dedicated to not just offering a phenomenal workplace but to complement the lifestyle of our members while building a community. 
Why did you choose Bexley? How does your company expect to give back to the Bexley community?
When we went to look for land to build, we had visited other sites and arriving at Bexley resonated straight away with the style, the purposeful build of the community and the philosophy of living your best life. We want to involve the community of Bexley and will be hosting the community markets. We are going to be offering Friday night family movie nights – bring a lawn chair and watch a movie! We will have food trucks on site Monday – Friday during the day. We will be having workshop nights to have some R & R time with your favorite girls (& also for the guys!) to include arts & crafts, whiskey tasting & local vendors (some are Bexley residents too).
You can learn more about 4 & Co here.