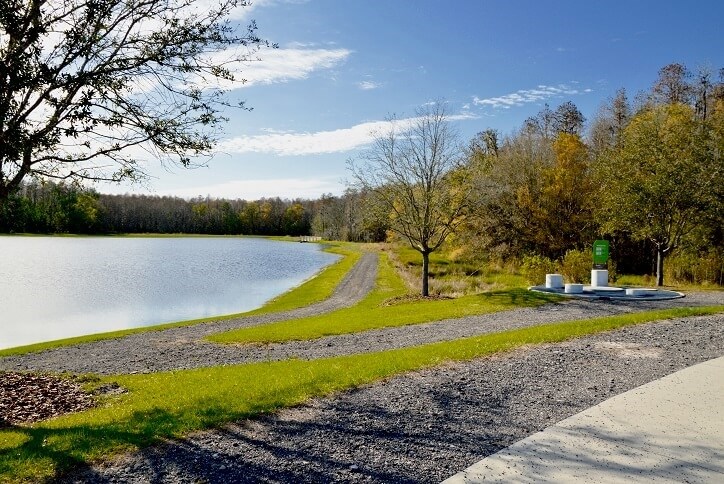 6 Ways Bexley Trails Keep You Healthy and Happy
Published: April 2021
When you visit Bexley, you'll find a fun and vibrant community full of active families. Our residents love to sweat it out at the gym and splash it up in the pools - even our furry friends can stay busy with two dedicated dog parks. One of the well-being cornerstones of our active community is the multi-surface trail system that weaves through the Florida landscape and our beautiful homes, offering our residents a wealth of wellness benefits.
Here are just a few great reasons to get outdoors in Bexley:
1. Burn Calories & Tone Muscles
Whether you prefer to walk, run, or bike, our trails offer the perfect backdrop for a little cardio exercise. If your health goal is to lose weight, define your muscles, or boost heart health, you can do it at any pace at any place in Bexley. As a bonus, do a little strength training at our outdoor Fit Stations. Download our trail map to find them. 
2. Get a Natural Energy Boost
Ready to ditch your four-cup-a-day coffee habit? Boost your energy - and your immune function - with a quick stroll along the trails. It's the perfect way to get an early morning jolt of energy or to perk up in the afternoon after logging hours working from home. 
3. Strengthen Relationships
Exercise is better with a friend or two. Our trails provide a great backdrop to family bike outings, romantic strolls, or neighborly jogs. Plus, with so many Bexley residents out and about on the trails, there's always an opportunity to meet a new friend!
4. Elevate Your Mood
Did you know that sunshine provides a natural increase to your serotonin levels? (That's a feel-good chemical in your brain.) Aerobic exercise also boosts serotonin, so going for a quick walk or jog along the trails is a double dose for your mental health. Lower stress levels can help contribute to weight loss, better sleep, a longer life expectancy, and so many more wellness benefits. It's a win-win-win. 
5. Reduce Your Health Risks
Walking along the trails for just 30 minutes a day can reduce your risk of chronic diseases such as diabetes, high blood pressure, cardiovascular disease, and even some cancers. You'll also reduce your risk of stroke. While you are working out, remember to review our.
6. Revitalize Your Mind
Walking in nature can jump start your creativity and problem solving, and can help clear your mind. When you've got a complex problem at work, hitting the trails is a great way to reset and revitalize your brain. You'll come back refreshed and ready to take it on in a new light! 
If you're ready to boost your mental and physical health, exploring the trails at Bexley is a great way to do it! Which path will you pick?