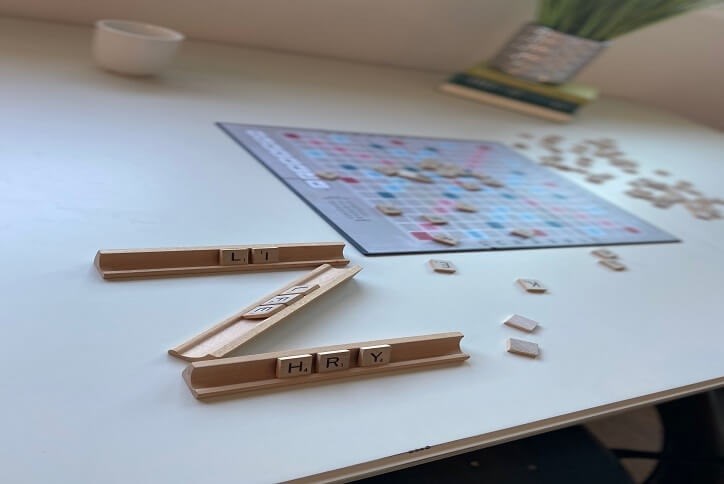 30 Boredom Busters For When You're Stuck at Home
Published: March 2020
Even if you're staying close to home these days, there are plenty of ways to have fun! Or, you could always tackle that project you've been talking about! Whatever your preference, we've rounded up the ultimate list of boredom busters - best of all? No screen time involved! 
Family-Friendly Fun 
These ideas are all about fun for the whole family! Even if you don't have kids, many of these activities can be enjoyed solo or with your significant other. 
1. Cooking & Baking
Do you have a new recipe you've been meaning to try? What about an old family favorite? There's no better time to slow down and enjoy cooking than a stuck-at-home day. 
2. Backyard Barbecue & Fun in the Sun
On a sunny day at home, why not have a backyard barbecue? Grill up some hot dogs and hamburgers, and make a toppings bar! If you've got kids, add in some outdoor games, like a water balloon fight, Red Light Green Light, or hopscotch! 
3. Board Games & Puzzles

Stuck inside all day? Time to pull out that 5,000 piece puzzle you've been saving, or have a family game night! If you don't have kids, this is a great date night idea as well!
4. Make-Believe
Have a tea party, or play princess and superheroes. Encourage your kids to use their imaginations - you'll be amazed at how creative they can be!
5. Take Family Photos
Today's technology lets you take and edit a great picture with just your phone! Why not have fun dressing up and taking family photos in the place you love the most - your home? 
6. Make a Pillow Fort
Whether as a family-friendly activity or a romantic date night, there is something so fun about building a pillow fort! Pro tip? Pillow forts pair perfectly with board games or card games.
7. Arts & Crafts
Rule #1 of arts and crafts? Let it be messy! Rule #2? Have fun! Chances are, if you're stressing about your kids making a mess, having an arts and crafts day won't be fun for anyone! So just relax, cover up the furniture, and have a blast! Think paint, potato stamps, homemade playdough, or shaving cream art! 
8. Have a Picnic

If it's a nice day, you can of course have an outdoor picnic, but what if it's raining? Just take the picnic indoors! Spread a blanket out over the floor, nibble, and watch the rain fall.
9. Learn a Tik-Tok Dance
Tik Tok is a new social media platform for 15-second videos. Many of these feature specific dances - why not learn one yourself? The sillier, the better! 
10. Charades & Pictionary
Go for a classic! These classic games can be modified for almost any age range, making them a great, family-friendly option!
Self Care & Relaxation
These seven ideas will help you feel calm and content, whether you want to try them on your own, with your family, or as an at-home date night. 
11. Read a Book
Nowhere to go? Why not curl up with a good book on a rainy day? Or, read outside to enjoy the Florida sunshine on a bright day! 
12. Spa Night
This is perfect if you live by yourself, or as a date night! Indulge in a face mask, mani-pedi, and if you have a significant other, a relaxing shoulder massage.
13. Scrapbooking
Do you have old family photos that need a home? Scrapbooking is a relaxing pastime that allows you to walk down Memory Lane and make something beautiful at the same time! 
14. Art
Have you tried the coloring books geared towards adults? More intricate than kids' coloring books, these fanciful and fun designs allow you an easy artistic outlet and can help you relax. 
15. Puzzles
Stimulate your brain with a good crossword, word search, or Sudoku! 

16. Work Out
Working out is a great way to feel healthier and happier. Try bodyweight exercises at home, like push-ups and sit-ups, go for a walk or bike ride around Bexley, or relax with some yoga.
17. Journal
Feeling stressed? Aren't we all? Write about it! Journaling is a great way to organize your thoughts and clear your mind. 
Productive Projects 
Feeling restless? Why not try one of these productive projects?
18. Clean Out Your Closet
Our favorite way to clean out a closet? Take everything out - yes, everything! - and then evaluate the pieces one by one. Would you buy it again, right now? If the answer is yes, put it back. If not, donate it.
19. Organize Your Pantry
An organized pantry helps maximize space and prevents you from overbuying things you may already have, but have forgotten about. 
20. Deep Clean Your Home
Give those often-neglected nooks and crannies a good scrub! Dust your fans and window blinds, wipe down your cabinets and baseboards, or wash your windows.
21. Meal Plan
How often do you have the "what do you want to eat tonight?" conversation? Well, a meal plan will help you never have this conversation again! Writing out your meals for the week also helps you only buy what you need, so you save on money and reduce food waste.
22. Clean Out Your Refrigerator
How long have those condiments been in there? Toss anything expired, or that you won't eat, and wipe down the shelves and refrigerator walls. Future You will be glad you did.
23. Plant a Garden
Gardening is a relaxing and rewarding pastime. Even if you've got a black thumb, you can try a succulent or cactus. 
At-Home Date Ideas
Try these romantic ideas with your spouse or significant other! 
24. Indoor Picnic
Why not enjoy a romantic picnic - in your living room? This one goes great with the pillow fort we mentioned earlier!
25. Mixology Night
Time to test out those mixing skills! Have fun making and enjoying crazy cocktails!  This is a great chance to try a drink you'd never try at a restaurant or bar.
26. Wine & Cheese Tasting
Another fun night is to enjoy different wine and cheese tastings! Make yourself a charcuterie plate and try a few different types of wine.
27. Take Personality Quizzes
Personality quizzes are a great way to find your strengths and weaknesses - personally, and in a relationship. There are many different personality assessments that will hone into different characteristics. Compare yours against your partner's to see how you can better work together. 
28. Breakfast in Bed
Breakfast in bed is great. Breakfast-for-dinner is even better. Grab your spatula and whip up some pancakes or French toast. Don't forget everyone's favorite - bacon! 
29. Play the Newlywed Game
There are many, many different Newlywed Game questions you can find online, or just ask your partner questions you're curious about. Does he know your favorite color? Does she know your favorite junk food? This is a fun way to learn more about each other!
30. Plan Your Dream Vacation
Planning a trip together is fun - even when there's nothing on the horizon! You don't have to take a trip to enjoy talking about it. Where's your dream vacation destination and what would you do there?