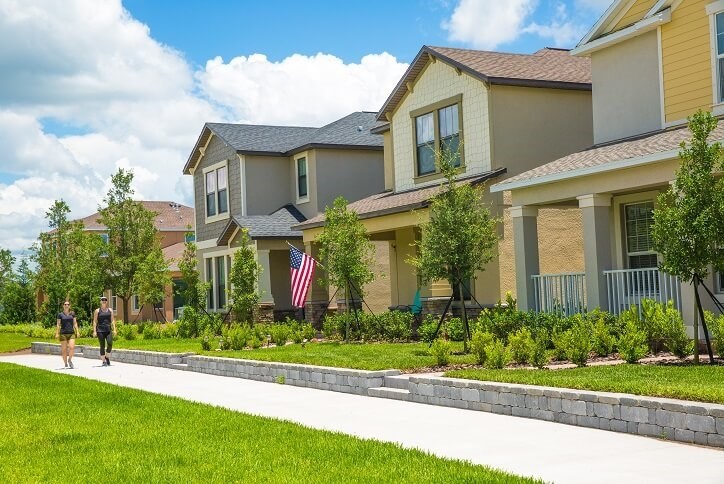 Back to the Burbs
Published: October 2019
Living in the "burbs" seems to be cooler-than-ever as the suburbs are turning  into live-work-play hubs, rather than just neighborhoods. As suburban developments increasingly start to resemble village squares or walkable downtowns, there becomes more of a draw, especially to millennials and younger adults, to settle down in these mixed-use areas, where many housing options are affordable. Introducing the "hipsturbia" movement.
The Draw
Many millennials are in a life stage where they are looking to purchase homes but have been priced out of many bigger cities. But, these hip millennials aren't yet willing to give up the "cool" factor and convenience of vibrant downtown living. For young professionals and new families, there are many perks of choosing a new home in the suburbs:
They often have easy and quick access to nearby city centers
There tend to be clusters of dense, mixed-use developments near master-planned communities, adding to every day conveniences, like dining, shopping and entertainment.
Often there are great school options nearby, like Bexley's access to A-rated schools for elementary through high school
Suburbs often provide access to a variety of different single-family home options, with plenty of room for hosting friends or a growing family, compared to small apartment living in a big city
It's not just for millennials; baby boomers and empty nesters are also choosing to purchase homes in the suburbs:
Suburban communities are hubs of activity with many planned events and happenings, so it is easy to stay busy
Hip retail shops and restaurants – such as brew pubs, coffee shops and yoga studios – keep this older age group connected
These centers have features for everyone, so boomers can enjoy the liveliness and energy that comes with an all-ages environment
There are plenty of single-family, luxury, or 55+ low-maintenance homes to choose from, depending on your unique needs
Given the many perks, there are plenty of cities, similar to Tampa, that are starting to serve as anchors for these smaller, accessible communities, or "hipsturbias." And the trend only appears to be growing!
The Takeaway
While big cities will continue to attract young post-millennials, suburbs featuring downtown-esque attributes and mixed-use features will remain a draw. And with individuals from different age groups, making this shift in home location, suburbs, and communities can continue to receive attention from commercial developers and investors, leading to added conveniences and draws to the area.
Learn more about Bexley's convenient location, with easy access to downtown Tampa and just about everything you may need nearby! And, with our commercial center set to open next Fall, we're well on our way to becoming part of "hipsturbia" at Bexley.