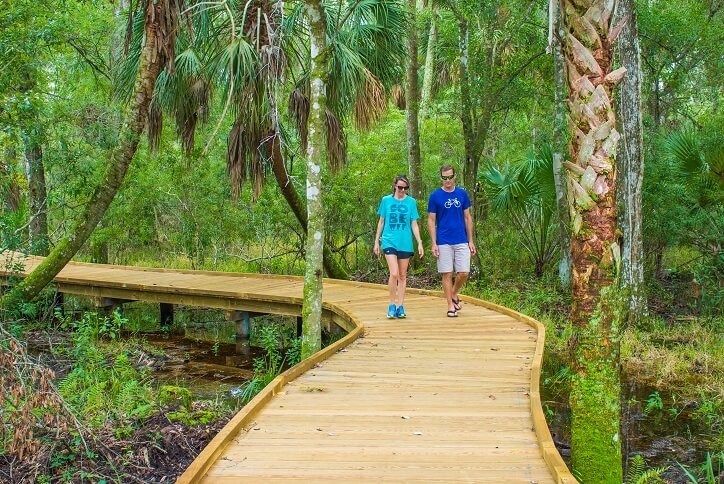 Top 5 Reasons to Choose Bexley
Bexley: Where adventure meets relaxation. Where award-winning amenities meet nationally-acclaimed builders. And where friends and family meet everywhere along the way.
This growing master-planned community in Pasco County, Florida, has so much to offer, from home options and amenities to an ideal location and the amazing residents that call it home. Here are some of the top reasons why Bexley is the best place to live in the Tampa Bay area!
#1: Home Options Galore
At Bexley, our homebuilders are among the top names in the industry and offer a wide variety of home style options, from single-family and townhomes to 55+ living and luxury. Want to explore for yourself? Visit our Homefinder to view details on available homes and future homes, or come on out and tour our models! Download our model tour guide here.
#2: The BEST Amenities Around
Whether you're 5 years old or 75 years old (or any age in between!), Bexley has something for everyone. Our award-winning amenities offer lots of options for adventure, relaxation and connecting with nature and friends.
The Bexley Club: At the center of our community is the Bexley Club. Here, residents can enjoy two resort-style pools set within a lush Florida landscape, a splash pool that's fun for the kids (or the kid within) and a lap pool for getting in a workout. An open-air game room with air hockey, billiards, and foosball tables is a popular spot with the younger residents. Our fitness center is housed in its own building right next door and offers a stunning view of preserved wilderness.  And, we have our very own Twisted Sprocket Café, which is the heart of the community and offers a delicious menu of breakfast, lunch, dinner and treats.
Trails: If you're active (or want to become active) Bexley has a picturesque trail network throughout the community featuring miles of multi-surface AvidTrails™ for walking, running and getting your heart pumping! Along the way, you can add some diversity to your workout by stopping at one of the 11 outdoor fitness stations throughout the community.
Parks: Here in Bexley, you can find the most unique community parks in the Tampa Bay area. With many different parks to fit different types of fun, Bexley has it all. Get some air at our unique Mud, Sweat and Gears bicycle pump track, meet pups large and small at the BarkYard, get in a game of ping pong or foosball at Game On Park, or find your inner peace at The Lotus Lawn (coming soon!).
#3: A Vibrant and Active Lifestyle
What makes Bexley great is more than just the homes and amenities – it's the lifestyle. Bexley residents love living here because the community allows them to live an active and social life. Throughout the year, Bexley hosts resident events that are fun for everyone, such as our Fall Concert Series and our Saturday Morning Markets. Our residents say they enjoy meeting their neighbors and having options for family fun right here within the community. And, we have a special welcome for our military residents, offering builder discounts, resources and programs aimed at making life just a little bit easier during times of deployment.
#4: Location, Location, Location
Location is such an important part of choosing a new place to call home. Bexley's location is ideal, with easy access to the Suncoast Expressway that gets you to bustling downtown Tampa — which offers a host of exciting restaurants, trendy night spots and fun things to do and see with the family. But still, the community is tucked far enough back from State Road 54 to feel like a true haven. Bexley is also home to Bexley Elementary School, which is right within the community. Top-rated pre-schools, middle schools, high schools and charter schools are all within close reach, making Bexley's location a complete win all around.
#5: Don't Believe Us Yet? Hear from the Residents!
Our residents say it best. Purchasing a new home is such an important decision, and we wouldn't want you to make it without hearing from a few people who went through the same process just a couple years ago! Watch our resident testimonial videos to hear from the real Bexley residents on why they love living here.
Take Bexley for a Test Run
If all this sounds too good to be true, don't just take our word for it – test it out for yourself! Our Resident for a Day program allows prospective residents to live life the Bexley way, for a day. Get your all-access day pass and explore the trails, dip into the pools, test out the pump track and hang out at the Twisted Sprocket Café. Tour the model homes while you're there and imagine how your life could be at Bexley.