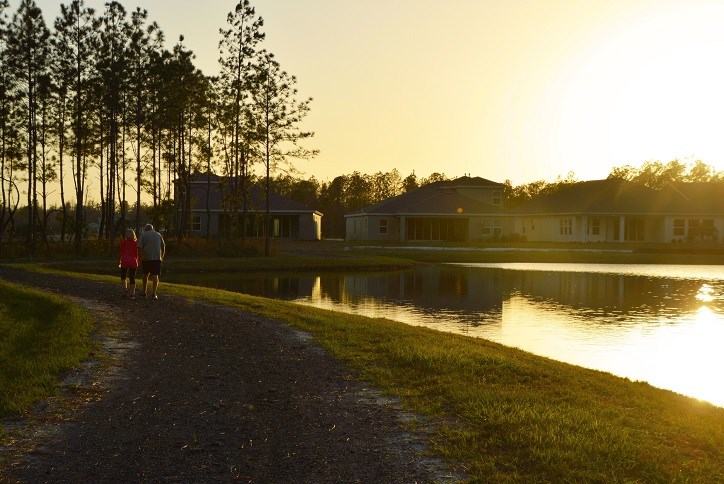 Quiz: Is Bexley Life for You?
Bexley is more than just a place that our residents live. It's a place where people know each other, support each other and can always find a friendly face. Could the #BexleyLife be the perfect fit for you too? Answer the questions below to find out!
Q:   Is having an active lifestyle important to you?
Bexley offers many opportunities to get moving – whether it's at the fitness center or on the miles of multi-surface Avid Trails™ where you can walk, run or even bike outdoors. And with this near-perfect Florida weather, what's not to love about getting outside?
Q:   Do you want a brand new, gorgeous home?
Who doesn't? Bexley offers single-family homes, luxury homes, townhomes and 55+ living from seven different nationally-acclaimed homebuilders. Tour our 14 model homes and take your pick of stunning kitchens, relaxing master bathrooms, and tons of floorplan options.
Q:   Do you love having award-winning amenities available to use right within reach?
Bexley has not just one but two resort-style pools for you to unwind and relax in at The Bexley Club! Our bicycle pump track is one-of-a-kind and exclusively for Bexley residents. Plus, our adventure-inspired parks keep the whole family (including the fur members!) moving with playgrounds, soccer fields, ping pong tables and big and small dog parks.
Q:   Do you sometimes just want to get out of the house for a tasty meal but don't want to leave the neighborhood?
The Twisted Sprocket Café is Bexley's on-site go-to spot for gourmet breakfasts, lunches, delicious treats or even a glass of beer or wine! The café is even open until 7 p.m. for those nights when you just don't feel like cooking.
Q:   Are you trying to find the right balance between being close to everything, yet finding your own peace?
        Bexley's location is ideal for so many reasons. We're close enough to the Suncoast Parkway, yet far enough back from SR-54 to feel a sense of peace as you enter the community. Close enough to downtown Tampa, yet away from the hustle and bustle of a major city. Close enough to all of the amenities of the Tampa Bay region, yet your own slice of paradise nestled in old Florida preserve.
Q:   Do you want to love where you live?
From the amazing residents, to the amenities, to the location and all that surrounds it, Bexley is the perfect place to call home and then some! Check out our very own resident stories to hear more.
Did you answer yes to any of these questions? If so, come check it all out for yourself and experience life as a Bexley Resident for A Day!