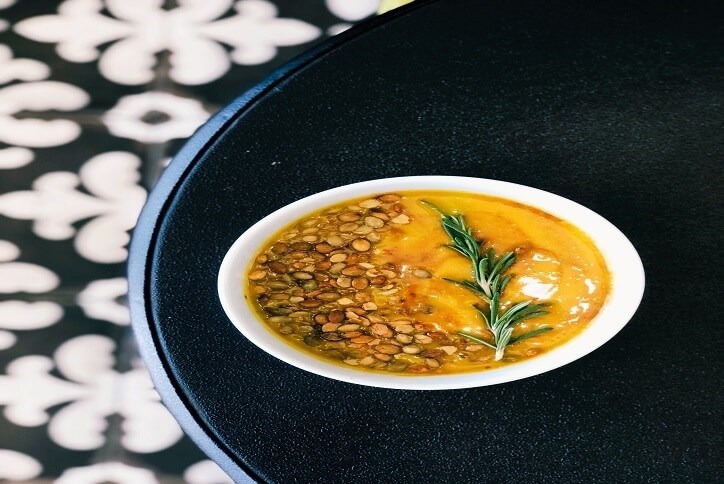 From the Twisted Sprocket Kitchen: Spiced Butternut Squash Soup
Be Thankful....
Be Grateful....
Be Happy....
Be Hungry....
Thanksgiving is that special holiday to celebrate and to eat! Here is a fabulous recipe to add to your holiday table.
Prep time: 5 MINUTES
Total time: 30 MINUTES
Ingredients
2 

Tbsp

coconut oil

2

cloves

 

garlic, minced 

2

medium

shallots

,

thinly diced

1 small butternut squash,

chopped

1 1/2

Tbsp

 curry powder

1 pinch 

ground cinnamon

1 pinch salt
1 pinch black pepper

2

cups

 

vegetable broth

14-ounce

light coconut milk

3

Tbsp

 

maple syrup 

1-2

tsp

 

chili paste
Garnish
Chili paste
Toasted pumpkin seeds
Fresh rosemary
Instructions
Heat up oil in a large pot over medium heat. Add shallots and garlic. Sauté for few minutes. Add butternut squash. Season with curry powder and with a pinch each salt, pepper, and ground cinnamon. Stir to coat. Cover. Cook for 5 minutes, stirring occasionally. Add coconut milk, vegetable broth, maple syrup, and chili paste.  Bring to boil over medium heat and then reduce heat to low, cover, and simmer for 15 minutes or until butternut squash is tender. Transfer soup to a blender, and purée on high until creamy and smooth. Then return soup back to pot. Continue cooking for 5 more minutes over medium heat. Serve with garnishes.