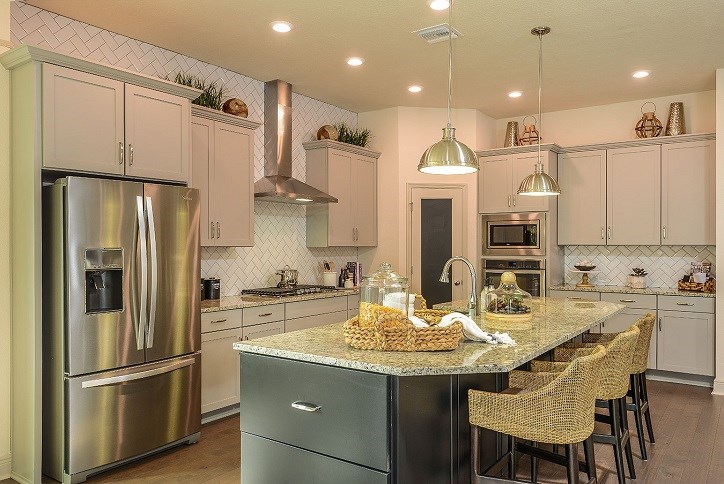 Top Kitchen Appliance Trends
The kitchen is the heart of the home. It's also the place where time-saving appliances can make cooking and even cleaning a whole lot easier. What trends are making the biggest impact? Some of our favorites are below.
Connected Appliances
There are apps for your smartphone. Now there are apps for your home appliances and it's probably the hottest kitchen trend for 2018. The appeal is simple: make life easier, ease stress and save time. Connected appliances let your appliances 'talk' to each other and even remotely program or monitor your home through a process called the Internet of Things, or IoT for short. The appliances talk to each other through wireless communication. Left the fridge door open? It can send an alert to your smartphone. Stuck in traffic but still want to get dinner on the table? You can now pre-heat your oven with the touch of an app.
Black Stainless Steel
Once available only on high-end appliances, black stainless steel is going mainstream at a price most homeowners can afford. You'll find a whole range of appliances in this finish, from refrigerators to dishwashers and even clothes washers and dryers. Part of the appeal is that black stainless steel provides the sleek, modern look that's showing up in today's kitchen design. Manufacturers are also exploring stainless steel in colors such as rose gold, copper and champagne to better accentuate kitchen decors, but black remains the most popular.
Fingerprint Proof Finishes
Anyone who's had traditional stainless steel knows it can be difficult to clean. Sometimes it seems impossible to get rid of fingerprints and smudges. Now homebuyers can turn to appliances with finishes that resist those pesky smudges and fingerprints. Just grab a cloth and easily wipe them away. No special products or cleaners needed. Another bonus? These finishes, which can be found on kitchen fixtures like sinks, dishwashers and refrigerators, also help guard against everyday scratches from rings, keys and other common items.
Smart Stoves
Three cool trends have our attention when it comes to stoves. The first is the next generation of induction stoves. Induction cooking has been around for years, but today's induction stovetops are even better than before. Induction cooking uses electromagnetic heat instead of radiant heat, which means cooking surfaces don't get as hot. Induction also cooks food faster and more evenly. Today's updated induction stoves even have touchscreen technology. Just drag your finger to control the temperature. Stoves with French doors are also an emerging design idea. They add a restaurant feel to your kitchen and can be a great space saver since the doors open horizontally instead of vertically.  Finally, stoves in attention grabbing colors like cadet blue or red are also turning an everyday appliance into a kitchen focal point.
Instant Pots
An item that seemed to be on everyone's holiday list is still one of the most sought-after kitchen items of 2018. Part of the appeal is the minimalist approach of the countertop cooker. It's one appliance that's a rice cooker, yogurt maker, slow cooker, sauté pan and warming dish all in one.