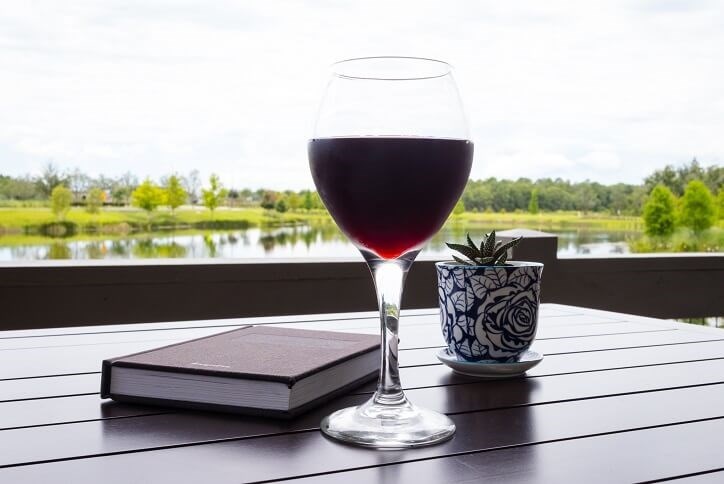 Wine Down at Bexley
Not surprisingly, one of the most popular hangout spots in Bexley is the Twisted Sprocket Café.  Not only do they serve up delicious, gourmet sandwiches, salads, wraps and coffee drinks, but they also serve beer & wine.  Keep reading to see the top 5 reasons why residents (and the public!) like to wine down in Bexley.
1. The Wine
The Twisted Sprocket Café offers a variety of white and red wines from the family owned Masciarelli Wine Company.  Here, you can WINE a little and laugh a lot!
2. The Café Staff     
Our friendly Twisted Sprocket Café staff is here to assist you 7 days a week!  First time in?  Ask for a recommendation!  They love engaging with customers and working in the café, which you can easily tell through their delicious cooking.
3. The Views 
Enjoy your glass of wine out on the outdoor patio overlooking the community lake.  From the clubhouse patio, you have a front row seat to gorgeous and tranquil sunset views.  After all, drinking wine on the patio should be considered an outdoor activity.
4. Great Place to Meet New Neighbors
Bexley is a friendly, outgoing, diverse community, so you never know who you'll run into at the Twisted Sprocket Café.  Be sure to say hello to the folks behind you in line, because the best wines are the ones you drink with friends.
5. Perfect for Relaxing after a Long Day 
The ability to have a place to get away from it all, only steps away from your home is priceless.  Now open until 7pm from Monday-Saturday & 6pm on Sunday, find time to unwind everyday.  Here at Bexley, we only drink wine on days ending with "y".