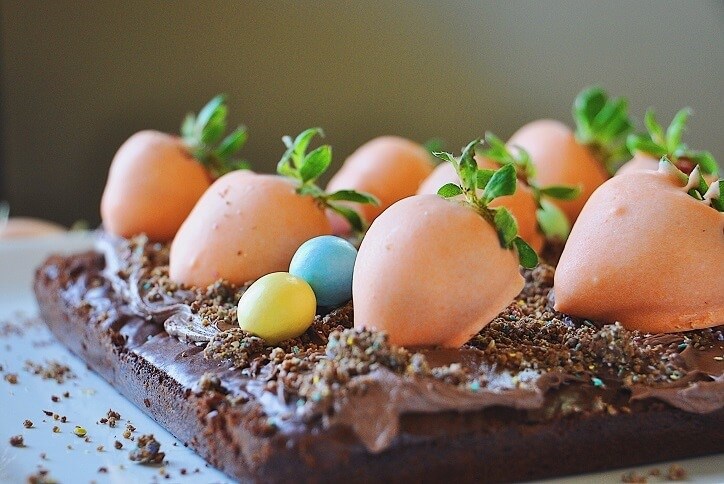 From Our Kitchen to Yours: Chef Ashley Shares a Bexley Special
In our exclusive series, Chef Ashley from Bexley's Twisted Sprocket Cafe shares one of her favorite recipes perfect for Spring, Carrot Patch Brownies.
Ingredients
Cooking spray, for pan
1 box Double Chocolate brownie mix, plus ingredients called for on box
1 1/2 c. white chocolate melting chips
1 tbsp. coconut oil
5 drops Orange food coloring
12 wooden skewers, for dipping
12 large strawberries
1 tub chocolate frosting
2 packages M&M eggs
Directions
Preheat oven to 350° and spray the inside of a 9"-x-13" baking pan with cooking spray. Mix brownie mix and its ingredients according to package instructions in a bowl. Pour batter into prepared pan and bake until a toothpick has moist crumbs, 28 to 30 minutes, then let cool.
In a double boiler heat up some water. Once water is hot, pour white chocolate melting chips in the top bowl and add coconut oil. Once the chocolate chips are melted. Add the orange food coloring, then mix until combined. In a blender, mix one package of M&M eggs and pulse until it turns into crumbs.
Line a large baking sheet with parchment paper. Pierce each strawberry with a skewer and dunk the strawberries in melted orange chocolate, repeating to coat, if necessary. Place on lined baking sheet and refrigerate until set, 15 minutes.
Remove cooled brownies from the pan and place on a plate. Frost the brownie with chocolate frosting and top with crushed M&M eggs. Top brownies with strawberries and add a few more M&M eggs for décor. Slice into squares and serve.