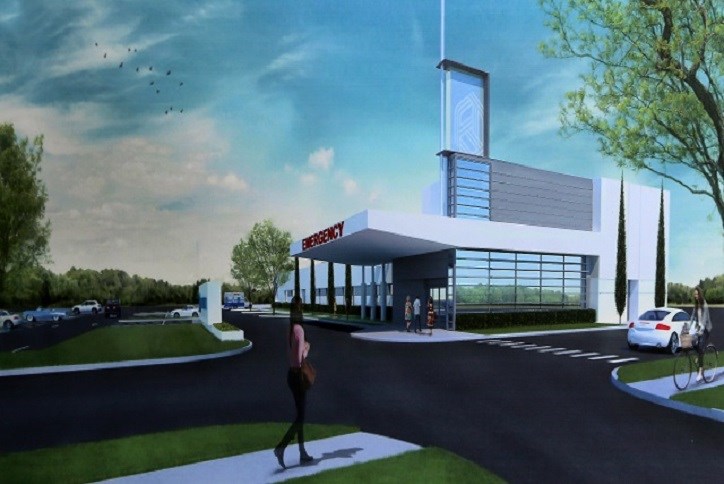 Florida Hospital to Locate New Emergency Department in Bexley by Newland Communities
Published May 2017*
Residents in the rapidly developing area of East Central Pasco County will soon be able to seek emergency care much closer to home. Florida Hospital Wesley Chapel recently broke ground on a 18,000 square-foot off-site emergency department located at Bexley, a new master-planned community just 25 miles north of Tampa.
Bexley is owned in a joint venture partnership between NORTH AMERICA SEKISUI HOUSE, LLC (NASH), the U.S. business unit and full subsidiary of SEKISUI HOUSE, LTD., Japan's largest homebuilder and leading diversified developer, and Newland Real Estate Group, LLC, whose development business, Newland Communities, is the master developer of the community. Bexley is one of more than 30 communities the NASH-Newland partnership owns together in 11 states across the United States.
The 24-bed building, which is expected to open in January 2018, will be located on State Road 54, just east of the Suncoast Parkway. In addition to a 24/7 emergency department, the facility will also offer imaging services, including X-rays, ultrasound, CT scans and laboratory services.
"Florida Hospital Wesley Chapel's off-site emergency department is a welcomed addition to our growing Bexley community," said Pam Parisi, Vice President of Marketing for Newland Communities. "It will meet the growing need for nearby medical care, not only for Bexley residents, but also for those in neighboring communities. Florida Hospital is known for their state-of-the-art facilities and quality care, and we're thrilled they chose Bexley as their newest location."
Florida Hospital Wesley Chapel is the latest corporation to announce development plans within Bexley. The community will be home to a RaceTrac convenience store and a 110-bed SpringHill Suites by Marriott hotel. Both are slated to open in 2018. Additional commercial retail and office space is also planned. 
Inspired by nature, Bexley opened in November 2016 and features 1,200 acres of preserved open space areas and parks, tree-line streets and resort-style amenities. With miles of planned walking, jogging and biking trails accessible from nearly every home in the community, Bexley encourages people to get outside and connect with nature. The master-planned community also offers outdoor fitness stations, a BMX bike park, dog parks, and public cafe. Additional amenities, including two pools, a fitness center, and open-air game room will open this summer. The community will also be home to Bexley Elementary School, scheduled to open in August 2017. Model homes at Bexley are open daily from 10 a.m. to 6 p.m. and on Sundays from noon to 6 p.m.
*Update: AdventHealth (formerly known as Florida Hospital) Central Pasco ER is open and operating at 16625 FL-54, Lutz, FL 33558 
About Bexley:
Bexley by Newland Communities opened in Fall 2016 and is a 1,825-acre master-planned community located in Land O'Lakes among several notable wilderness preserves. Nestled among the cypress domes, oak hammocks and pine flatwoods are single-family homes and townhomes, starting in the low $200s to over $600,000. Future villas, courtyard homes and apartments are also planned. Amenities include 10 miles of multi-use, soft surface Avid™ Trails; state-of-the-art workout stations, dog parks, play areas for all ages and a bicycle pump park. The lakefront Bexley Club is the hub of activity featuring the Welcome Center and Twisted Sprocket Café.  When complete, the Bexley Club will offer resort-style pools, fitness center, and game room. For more information call 813.425.7555 or visit  www.bexleyflorida.com
About NEWLAND: 
Newland is a diversified real estate company leveraging a national platform and over 45 years of experience to perform challenging and diverse development, investment, management, and advisory services across a wide range of real estate. The company's mixed-use development business, Newland Communities, actively owns, operates and develops premier residential master-planned, commercial, retail, and urban mixed-use real estate across the U.S. Headquartered in San Diego, Calif., Newland and its affiliated companies have completed, or have underway, more than 140 diverse real estate developments, more than 20 million square feet of commercial and retail space, and 175,000 residential units in 14 states. www.newlandco.com.
About NORTH AMERICA SEKISUI HOUSE, LLC (NASH):
NASH was established in 2010 as the U.S. business operations unit and a full subsidiary of SEKISUI HOUSE, LTD., Japan's largest homebuilder and a leading diversified developer since 1960. SEKISUI HOUSE, LTD. has built more than two million houses to date and expanded its operations to Australia, China, Singapore, and the U.S. NASH establishes joint ventures to build innovative and sustainability conscious master planned communities across the US. NASH is headquartered in Arlington, Virginia. http://nashcommunities.com/. 
Contact:
Pam Parisi
Vice President of Marketing, Newland Communities   
813.620.3555 | pparisi@newlandco.com