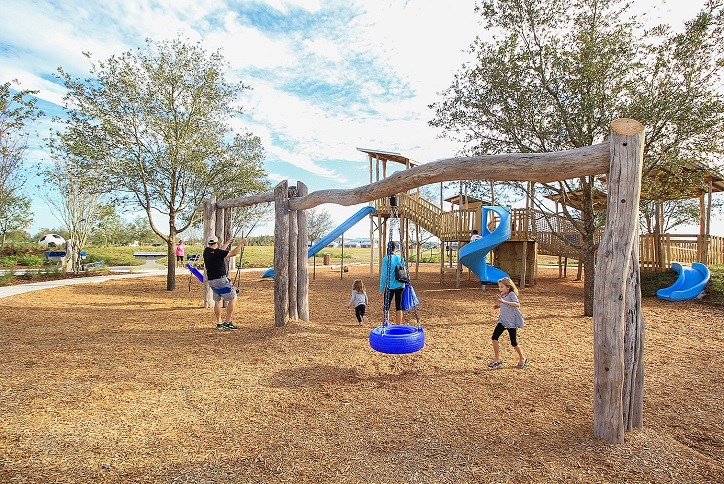 Q&A with Asheville Playgrounds
Published June 2017
Bexley is home to four diverse parks to play, laze or exercise. Learn a bit more about the vision behind these unique green spaces from their designer, Asheville Playgrounds.

Q.: Bexley is a park lover's dream. How many common green spaces are you designing as part of the master community plan?
A: There are a total of four designated playgrounds.  We're currently working on the last one, having substantially finished the third at the Amenities center.  We completed the first two last year, located near the dog park and at the soccer field.

Q.: How do the spaces differ? What's  your vision?
A: Thematically, the one at the soccer field can be considered our most 'natural', with its' slides, rock wall, and bridges integrated into the created hills.  The park near the dog park and the current install (which we've always known as 'Park One') share shed roofs and 'fish shack' styled pickets, developed with and for the Booth Design Group and their vision for the playgrounds.  The Amenities installation is the closest version of what we typically 'do', with it's laurel pickets.  All parks have locust posts and treated lumber decks, ramps, and stairs as their designs called for.
Q: How do the parks fit into the overall vision of Bexley? How do you feel a park system helps foster community?
A: We appreciate how the Bexley community is dedicated to integrating their outdoor features, the parks, the trails, into a concerted whole woven into the 'neighborhoods' they're creating.  Subdivisions of the past treated such as something to be tucked away into a corner by the sales office that later became the 'meeting room' by the pool.  At Bexley, an opportunity to get out and interact with nature and your neighbors in a variety of ways is but a short walk away from one's door.  We're proud and pleased to be invited to help provide these opportunities for people and especially their children.

Q: Bexley celebrates a multi-generational community. Do you design with all ages in mind?

A: "Playgrounds, although meant for the young, also nurture the 'young at heart'.  Adults bring their children, their grandchildren, their extended families.  Although the playgrounds we design, build, and install are meant and marked for certain age groups, we know that all 'children' like swings....and slides, especially the big ones. ;)  Someone has to teach a child to climb, to stretch, to strive for that next step.

That's the way it always has been, after all.

Evelyn is our primary park designer; she has a 'knack' for laying out a playset into a given space with as much potential 'play value' within it as possible with the restraints of fall zones and the needed clearances.  My duties entail taking her concepts or ones we've been contacted to do by others and making them possible to build and install.  We've done one previous project for Newland communities for their Wendell Falls, N.C. location east of Raleigh.

Q: How does one become a playground design/build/install firm?  

A: Well, we bought one;-) The previous owner only liked doing residential projects and didn't like working with designers;  we prefer commercial work and working with design professionals due to our backgrounds.  Our talents and skills seem to dovetail together nicely to allow us to create these structures of practical beauty and joy. Although it is hard work, we enjoy the fact that what we do makes people smile and children play...

Our focus is to provide as much 'play value' as possible with a primarily wood structure, that can vary from 'structured' (all treated timber) through 'natural' (as much locust and laurel elements that we consider safe and practical).  Our roofs tend to be sheathed in metal for its' practicality, although we can work with composition or wood shingles if desired.  Our vision is to create a stylish and safe playground from natural materials that are fun yet challenging.  Playgrounds that are totally 'safe' are usually unused and boring to the active child.  Children need to be challenged, need to learn to limits, need to stretch their muscles and minds.  We try to give them a space and place to do that, preferably overseen by their parents.