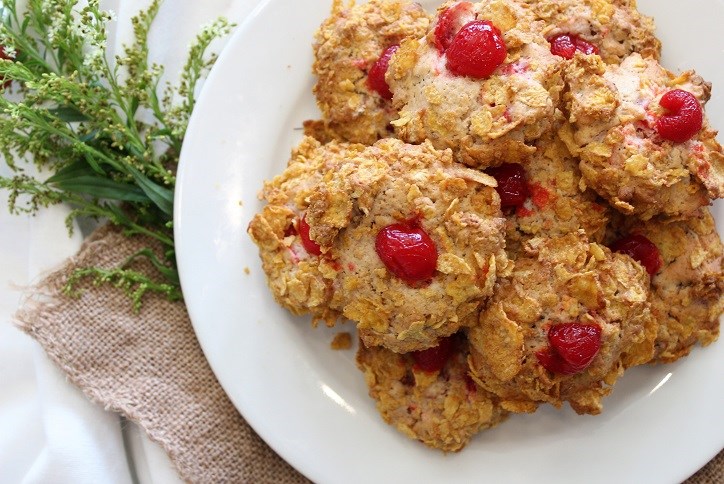 Cherry Winx Cookies
Published December 2017
Our very own resident celebrity chef, Ashley Davis, is sharing her favorite holiday recipe that has been passed down to her from her grandmother. We hope you enjoy this holiday favorite as much as she does.
Cherry Winx Cookies

1 cup sugar
¾ cup shortening
2 tablespoons whole milk
1 teaspoon vanilla
2 eggs
2 ¼ cups all-purpose flour
1 teaspoon baking powder
½ teaspoon baking soda
½ teaspoon salt
1 cup chopped pecans
1 cup chopped dates
1/3 cup chopped maraschino cherries
1 ½ cups coarsely crushed corn flakes cereal
15 maraschino cherries, quartered

Heat oven to 375°F. Spray cookie sheets with cooking spray. In large bowl, beat sugar and shortening with electric mixer on medium speed, scraping bowl occasionally, until well blended. Add in milk, vanilla and eggs and beat until combined.
On low speed, beat in flour, baking powder, baking soda and salt, until dough forms. With a wooden spoon, stir in pecans, dates and 1/3 cup chopped cherries. Cover with plastic wrap and refrigerate 15 minutes for easier handling.

With your hands, shape dough into balls and drop dough into cereal; coat thoroughly. Place 2 inches apart on cookie sheets. Lightly press maraschino cherry quarter into top of each ball. Bake 10 to 15 minutes or until light golden brown. Cool 1 minute; remove from cookie sheets to cooling racks.