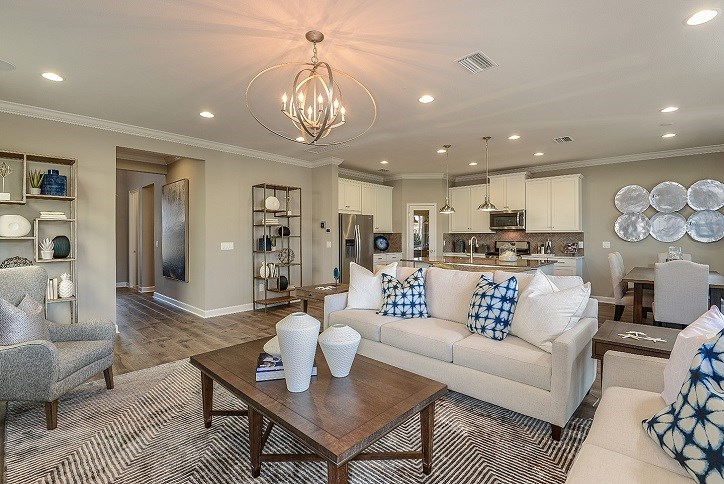 Why Residents Chose a Floor Plan
Published August 2017
One of the top reasons people buy at Bexley is our variety of floorplans. With six homebuilders, there's a floorplan sure to fit your life.
Thanks, in part to an abundance of TV design shows and social media channels like Pinterest and Instagram, today's buyers are savvier than ever. They're looking for a floorplan that will meet their lifestyle needs.
Over the last few years, the desire for an open floorplan has been at the top of the list for many homebuyers, and the outstanding builders at Bexley have been ready with a variety of options. An open floor plan can make a home look more spacious, especially when the plan also connects the indoor living area to outdoor space, with nature serve as an additional room and providing much of the home with natural light.
An open floor plan also provides a layout that's much more casual and chic. The days of having formal living and dining rooms may be over. Homebuyers want to use all of the space that is available to them on a daily basis and have their living space feel comfortable and inviting, using furniture to serve as 'boundaries' between the kitchen, eating area and living space.
Well-planned kitchens are also in demand for many homebuyers when they are considering a floorplan. While baby boomers may wish for a little less space, others want to indulge their love of cooking and entertaining with kitchen's that have professional-grade appliances, plenty of counter space and islands.
Another common reason homebuyers select their floor plan is because it fits their needs. Whether they are a family with young children in need of more bedrooms, a bonus room and plenty of storage, or empty-nesters who want to downsize and live on a single level, the homebuilders at Bexley have what potential homeowners are looking for. Buyer can select from four bedroom homes with bonus rooms, two-story homes with a first-floor primary suite, ones with three-car garages or homes which require very low maintenance. There are also homes to fit today's multi-generational families.
Of course, for many homebuyers it all comes down to price. They want to get as much as they can afford, while taking into consideration their needs – both now and in the future. At Bexley, potential homeowners will find a variety of floorplans at a range of price points to fit most any budget.
Whether you are moving into the home where you will raise your children, or looking for a home with an easier upkeep, we think you'll find the perfect home to fill with a lifetime of memories at Bexley.