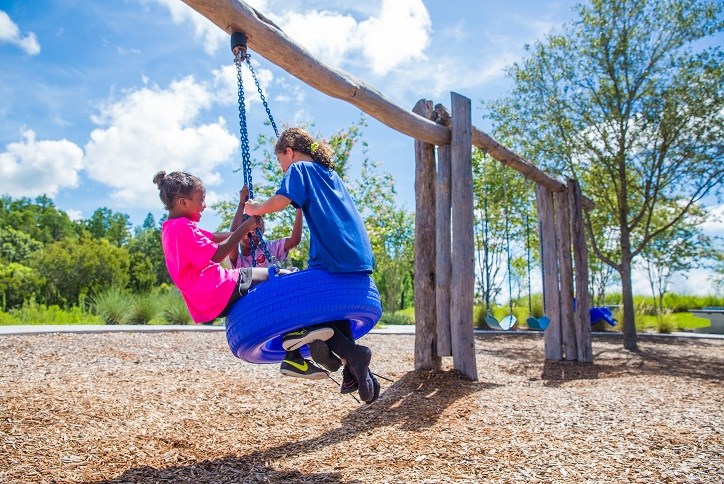 First Day of School
Published August 2017
The first day of school is always filled with excitement. But this year, there was even more buzz as Bexley's youngest residents headed to a brand new school located right within the community.

Students and their parents snapped photos as they waited for the front doors to open on the first day. Of course, there were a few tears shed by both parents and children, but all in all, the day was a positive experience.

"I loved coloring my "First Day of Kindergarten hat!" exclaimed Ryan, who clearly got his academic career off to a positive start.

Bexley Elementary houses students in kindergarten through fifth grade, so older students had to leave their previous school behind. But a new school brings with it many new opportunities.

"I loved meeting new friends and seeing my friends from my old school," said fifth grader, Eva.

Bexley Elementary School is one of two new schools built in Pasco County for the start of the 2017-2018 school year. Newland Communities, developers of Bexley, donated 18 acres of land to the school district to build the $25 million dollar school -  the largest elementary school ever built in the district. The five-building campus was designed with input from principals to ensure the space is functional. The school features a spacious office and reception area, two classroom buildings, a building for the arts and cafeteria and a R.E.C. Center - school's media center. The acronym reflects the school's commitment to Research, Engage and Collaborate. Classrooms also allow for collaboration and there's plenty of technology incorporated to keep up with the demands of the 21st century, with one technology device for every two students.

But for many students and parents the best thing about Bexley Elementary School is how close it is to their new home.

"I loved being able to walk home after school," declared fourth grader, Jessica. Other students rode their bikes to and from class.

To celebrate a successful first day, Bexley invited its resident students and parents to enjoy after school cookies in the Twisted Sprocket Café, where they shared the excitement of meeting their new teachers, making new friends with classmates and walking the halls of the school that will provide them with a lifetime of memories.