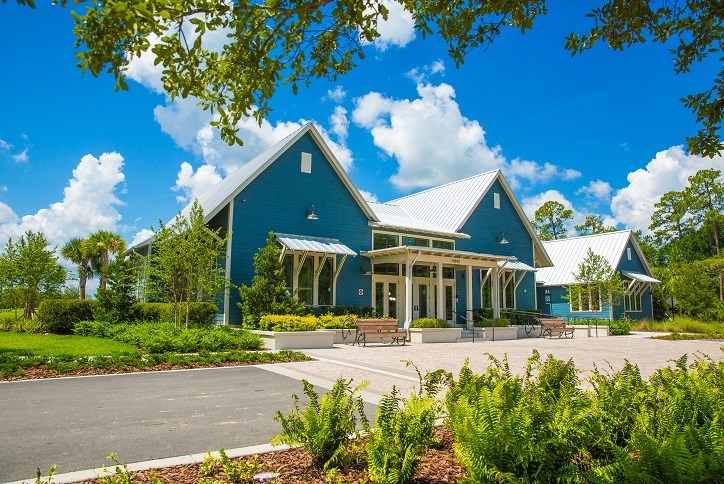 Bexley by Newland Communities Named Top Master Planned Community in Southeast
Published August 2017
Bexley by Newland Communities Named Top Master Planned Community in Southeast
One of Pasco County's newest communities honored with two national Aurora Awards
The Southeast Building Conference (SBC) has named Bexley by Newland Communities the top Master Planned Community in the Southeast, awarding the community its highest honor, a Grand Aurora Award. The Bexley Club, the community's hub, also earned a Grand Aurora Award for Best Recreational Facility. Award winners were selected from entries representing industry professionals in 12 Southeastern states and the Eastern Caribbean and were announced recently during the annual Southeast Building Conference held in Orlando.

Bexley is owned in a joint venture partnership between NORTH AMERICA SEKISUI HOUSE, LLC (NASH), the U.S. business unit and full subsidiary of SEKISUI HOUSE, LTD., Japan's largest homebuilder and leading diversified developer, and Newland Real Estate Group, LLC, whose development business, Newland Communities, is the master developer of the community. Newland is well known in Tampa due to its highly successful FishHawk Ranch community. Bexley is one of more than 30 communities the NASH-Newland partnership owns together in 11 states across the United States.
Bexley, which opened in November 2016, is already one of top-selling communities in the Tampa area, with a variety of home styles ranging from low-maintenance townhomes, villas, and courtyard homes to single-family and luxury homes. Nestled among cypress domes, oak hammocks and pine flatwoods, the 1,825-acre community not only features significant conservation areas, but a myriad of opportunities for recreation, exercise and social entertainment and connection. Some of the unique amenities at Bexley include a BMX bicycle pump park, custom-built playgrounds, two dog parks, soccer field, custom outdoor fitness stations and miles of Avid™ multi-surface trails for walking, running and biking, with a planned connection to the popular 42-mile Suncoast Trail.  
The Bexley Club is the hub of the community and houses the Welcome Center and Twisted Sprocket Café, a gathering place for residents and the public. Guests enjoy sitting by the fireplace or outside on the lakeside porch. Additional amenities include two resort-style pools, fitness center, a screened-in game room with fire pit and event lawn for community festivals and gatherings.  

"We are thrilled to be recognized by the Southeast Building Conference," said Pam Parisi, Vice President, Marketing for Newland Communities. "Bexley is the result of years of planning and research, and it's rewarding to see so many families choosing to make their home here. In just a short time, Bexley is already a vibrant community for people at all stages of life who crave an active lifestyle and greater connections with the outdoors and with each other."

The Aurora Awards encompasses all facets of the residential, commercial and remodeling industries and are presented annually to outstanding residential and commercial builders, planners, architects, developers, designers, interior merchandisers and other housing-related professionals. The Aurora Awards program is affiliated with the Florida Home Builders Association (FHBA) and the Southeast Building Conference (SEBC), one of two regional trade shows recognized by and affiliated with the National Association of Home Builders (NAHB).