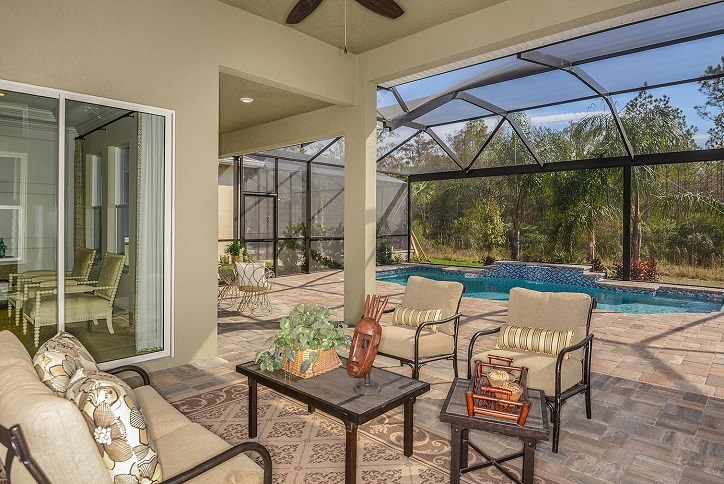 Spring Loving: Outdoor Entertaining
Published April 2017
Tis the season to make the stylish most of your outdoor entertaining with these 3 springtime must-try's.
Light the Fireworks
Spring is the season for renewal and flights of fancy. If your outdoor entertaining area is a mix of serene stonework and natural grains, compliment the space with disciplined pops of colors and patterns in your pillows, pitchers, and throws. While green and taupe are generally the go-to's for outdoor accents, embolden your backyard bashes with splashes of warm reds and oranges (think Mexico), or bright blues and sunflower yellow for a ode to the south of France. And if you have a vibrant garden, choose accents that extend your flora scheme, not compete with it. Most importantly, have fun. This is the time to experiment with little investment. Whatever you do, it will sure to be festive. Even the minimalist at heart come resist a happy hit of color come springtime.

Get Intimate
It may seem counterintuitive to create smaller spaces or "rooms" throughout your expansive backyard and patio, but as any landscape designer will tell you, these micro areas create a sense of warmth and togetherness in your gatherings. Take the fire pit area, already a show-stopper, yes, but add in a few intimate touches, and it becomes even more social. How? Place decorative stools or poofs in between a few of the larger chairs, or a bench along one side of the pit, then add large glass votives along the outside of the entire sitting area. The warmth of the firelight is extended and the mix of surfaces can be used for drinks or more people who can easily have one-to-one conversations around a wider circular pit.
Another charming way to add micro areas is to feature blankets and pillows in two or three areas throughout your backyard. Look to utilize odd spaces or angles like far corners or the top of a small incline or hill. If you are entertaining a range of age groups, you can add age-appropriate games at different spots so young kids and teenagers each have their own special playing ground.

Magical Lightening
Lanterns hanging from tree branches and patio overhangs will create a dreamy setting. Keeping with the outdoor room theme, this light element creates the illusion of a "ceiling". Unlike your interiors, balance is not necessary here. Play with inexpensive round paper lanterns in a variety of sizes hung at different heights. To create visual harmony, stay with one shade. White is classic, red dramatic and unexpected, blue cool (and a beautiful option for an evening pool party). Or for an exotic touch, try Moroccan lanterns or jars in a range of jewel colors. If you go with a more bohemian vibe, extend it to your menu and music.