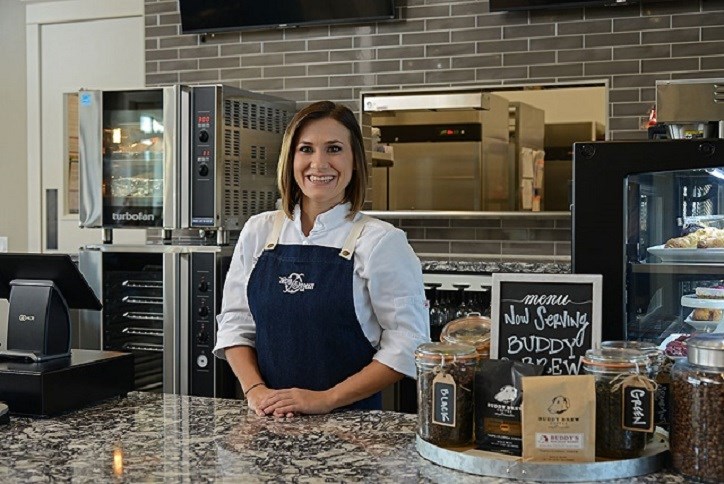 Meet Your Bexley Home Team: Chef Ashley Davis
Published April 2017*
Bexley by Newland Communities is pleased to announce the newest member of its management team. Chef Ashley Davis, joins the team as Clubhouse and Café Manager, in charge of Bexley's Twisted Sprocket Café.
Chef Ashley Davis turned her passion for food into a career. As manager of Twisted Sprocket Café, Chef Davis is in charge of menu development and the day-to-day operations of the café, which is open to the public. Twisted Sprocket Café is located inside The Bexley Club, a lakefront clubhouse that will be the hub of the community. Residents and guests from the area will be treated to a full menu of delicious pastries, breakfast options, smoothies, sandwiches, salads, burgers and flatbread. Beer, including a signature blend from Pasco County's Big Storm Brewery, and wine will also be available.
"Since the Twisted Sprocket Café is brand new, it's a pleasure to put my personal stamp on the menu," Chef Davis said. "My vision is for the café to be a warm, inviting place where people can sit by the lake with a cup of coffee and pastry, enjoy a post-workout meal with their cycling or running buddies, or kick off happy hour with a glass of wine and a flatbread."
Chef Davis has been selected to represent Bexley and the Twisted Sprocket Café in the Grand Tasting Village at the 2017 Food Network and Cooking Channel South Beach Food and Wine Festival. It will be homecoming of sorts, as Davis has previously produced several large scale events at the Festival, where she worked with prominent local and celebrity chefs such as John Rivers, Chris Lily, Timon Balloo, Lindsey Autry, Jeff Mauro, Guy Fieri and Robert Irvine. Prior to her new position, Davis spearheaded restaurant and corporate accounts for Save Our Strength in Washington D.C.
*Update: As of 2021, Chef Ashley is no longer managing the Twisted Sprocket Cafe.  To see the latest cafe happenings, click here.