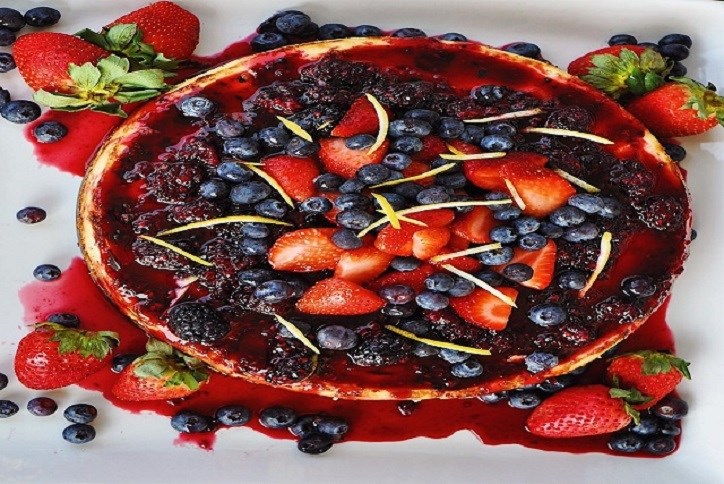 From Our Kitchen to Yours: Chef Ashley Davis Shares a Bexley Special
Published April 2017
In our exclusive series, Chef Davis from Bexley's Twisted Sprocket Cafe shares one of her favorite recipes, Triple Berry Cheesecake.
Triple Berry Cheesecake
Ingredients
1-1/2 cups graham cracker crumbs
1/3 cup packed brown sugar
1/2 teaspoon ground cinnamon
1/3 cup butter, melted
FILLING:
2 packages (8 ounces each) cream cheese, softened
1/3 cup sugar
2 teaspoons lemon juice
2 cups heavy whipping cream
TOPPING:
2 cups sliced fresh strawberries
1 cup fresh blueberries
1 cup fresh raspberries
2 tablespoons sugar
Lemon Zest
Directions
In a small bowl, mix cracker crumbs, brown sugar and cinnamon; stir in butter. Press the mixture in the bottom of an ungreased 9-in. spring form pan (one inch thick). Refrigerate for 30 minutes.
In a large bowl, beat cream cheese, sugar and lemon juice until smooth. Gradually add cream; beat until stiff peaks form. Transfer the mixture to the prepared crust and refrigerate, covered, overnight. In a bowl, gently toss berries with sugar. Let stand 15-30 minutes or until juices are released from berries. Pour the mixture into a saucepan and add a tablespoon of water. Cook until the berries form a compote liquid and set aside to cool.

With a knife, loosen sides of cheesecake from pan. Serve cheesecake with topping.