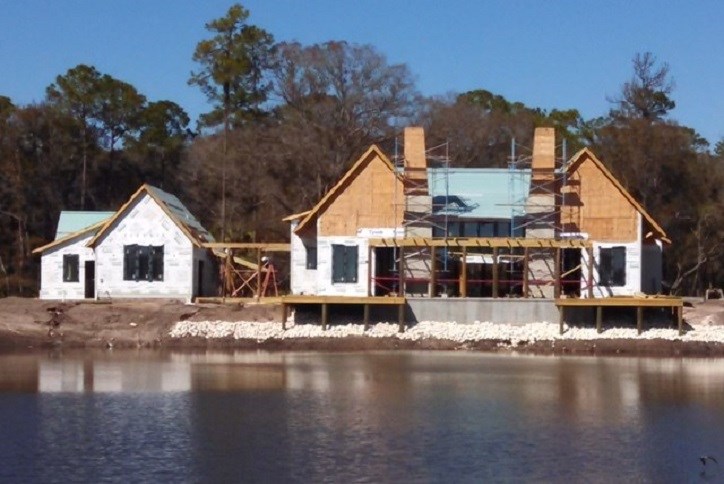 What "Day One" Means in a Newland Community
Published March 2016*
New communities have been popping up all over Pasco County in the last year, many touting promises of things to come – pools, trails, parks, and more.  In Bexley, all of this – and more – will either be under construction or ready for our residents to enjoy the very first day they move into the community.  At Newland, we affectionately refer to this as "Day One" – it's the standard we set during our initial planning workshops, and it's what we work towards every day leading up to Grand Opening.  Here's what "Day One" will look like in Bexley when it opens this Fall.

Right now, our first amenities, tucked within the cypress trees, are already under construction!  On Day One, the Bexley Club - featuring a community café with a menu of gourmet sandwiches, salads, a variety of coffees and smoothies, ice cream, and even beer and wine – will be open for business!  Imagine being able to grab a delicious dinner on your way home, having a snack with the kids after a long bike ride or swim, or relaxing with neighbors and a glass of wine at the end of the day – all without leaving your neighborhood.   With plenty of seating overlooking the lake, by the fireplace, and near the café T.V.s, you'll probably want to kick back and stay a while.  The Bexley Club will also be a great place to get the latest info on the community, because our Welcome Center will be here, too. Following close behind will be the completion of our campus of amenities, including two community pools – one for relaxing and swimming laps and one with a play structure for the kids, a fitness center, an open-air game room with fusbol, ping pong, and billiards, and a playground and event lawn.


The first phase of trails in Bexley are in design, and promise to be unlike anything you've seen in a residential community.  With a variety of trail surfaces for walking, running, biking, and strollers, the trails at Bexley will also be designed for different skill and intensity levels. Planning is still underway, so more details to come!

Finally, three distinctive parks will be ready to enjoy on Day One, with some very unique elements.  Two Pump Park bicycle courses will let kids and adults test their skills, stamina, and bike shocks!  Your furry family members will love the dog parks – one for big dogs and one for small – will agility features to keep your pups active, plus plenty of shade for mom and dad.  And kids of all ages will have their imaginations sparked by natural play areas, custom-built playgrounds and outdoor game boards placed throughout the parks.  But that's not all.  Outdoor fitness stations, an open play field, and a regulation soccer field round out the park features that will be finished on Grand Opening Day.

When you choose Bexley, you're choosing true community on Day One.  We promise, it will be worth the wait.


*Update: To see everything Bexley has to offer since "Day One" visit our amenities page.